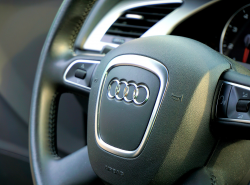 — Audi DSG (direct-shift gearbox) transmission problems have caused a lawsuit that alleges 2010-2014 Audi S4, S5, S6, S7 and RS5 vehicles are defective.
The class action says the DSG transmissions cause sudden rough shaking and violent jerking when drivers accelerate and shift into 2nd, 3rd or 4th gear. The lawsuit also alleges the vehicles shudder and judder when a driver slows down.
The plaintiffs futher claim the direct-shift gearbox transmissions hesitate during acceleration, surge while driving and experience rough downshifts when drivers decelerate and accelerate.
According to the lawsuit, the vehicles are too dangerous to drive, especially due to the allegedly sudden acceleration and deceleration problems.
In addition, the plaintiffs claim Audi knew about the transmission problems but continued to sell and lease the vehicles without informing customers about the issues.
The DSG class action references technical service bulletins (TSBs) related to the transmissions, with one bulletin that admitted customers were complaining about "[c]lacking or knocking noises." However, the TSB said that "[s]uch noises cannot be avoided and are normal."
Another TSB was issued to dealers in July 2013 that talked about "[r]ough gear changes, both when accelerating and when slowing down" and "rough driving power disruption[s]." The bulletin went on to tell dealers that "sporadic driving power disruptions" were "normal, and these issues will decrease over time."
Another transmission TSB recommended that Audi dealers use an "improved circuit board for the mechatronics unit."
All four named plaintiffs claim their DSG transmissions suffered from problems, with three of the Audi owners alleging they took the vehicles to dealerships but had no transmission repairs or replacements that fixed the issues.
The Audi DSG transmission lawsuit was filed in the U.S. District Court for the Northern District of California - Mandani, et al., v. Volkswagen Group of America, Inc., et al.
The plaintiffs are represented by Simmons Hanly Conroy, Whitfield Bryson Mason, and Greg Coleman Law.