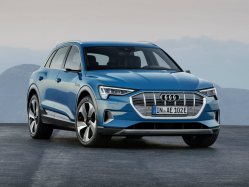 — An Audi e-tron recall has been issued for 1,644 electric SUVs over the risk of battery fires, or what Audi calls, a "thermal event."
The Audi e-tron recall will affect 540 SUVs in the hands of customers while the remaining vehicles will be repaired before sold by dealers.
The automaker says the recall is necessary because a seal may allow moisture to enter the battery compartment and cause a short-circuit.
Audi says no fires have been reported to date, but customers have reported illuminated battery warning lights caused by moisture.
If warning lights appear along with the message "Electrical system: fault," Audi says to immediately stop driving the vehicle and park outdoors away from structures. Drivers should not charge the vehicles but should call Audi Roadside Assistance at 800-411-9988 to have the vehicle towed.
Audi says the e-tron recall repairs should be available in August 2019 and customers have access to loaner vehicles. In addition, each owner will receive an $800 cash card.
Owners may contact Audi at 800-253-2834 and refer to recall number 93E8.