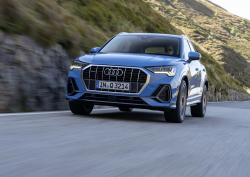 — More than 23,200 Audi Q3 SUVs are recalled if they are equipped with LED headlights. Audi says there may be problems with the front turn signals that can fail to illuminate, but Q3 drivers won't know the signals have failed.
The 2016-2018 Audi Q3s could be driven with drivers making turns without knowing other drivers see no front turn indicators.
The automaker says software wasn't configured correctly and will cause the turn signals to fail without providing drivers the typical fast-flashing of indicator lights. However, the exterior mirror turn signals will continue to work.
Audi says the LED turn signals are lifetime parts with extremely low failure rates, but when they do fail it causes violations of federal regulations.
Audi dealers will update the body control module software when the recall begins July 19, 2019. The job is expected to take about an hour.
If you own a 2016-2018 Audi Q3 and have questions about the turn signal recall, please call the automaker at 800-253-2834 and ask for information about recall number 97DK.
CarComplaints.com has owner-reported complaints about Audi Q3 SUVs.