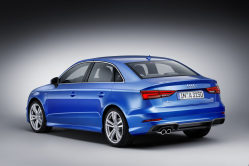 — A 2018 Audi A3 sedan and RS 3 recall will repair 20,600 cars worldwide with center rear seat head restraints that may detach during crash impacts.
The recall includes more than 3,600 A3 and RS 3 cars in the U.S. and was issued because the latching pins for the head restraints may be missing, leaving the restraints loose and capable of causing injuries.
The automaker says a tier 3 supplier made mistakes on a production line that allowed headrests without latching pins to be mixed with headrests that were properly manufactured.
Audi learned of the problem from a tier 1 supplier and opened an investigation that determined dealerships should at least check the cars to ensure the latching pins aren't missing. Technicians will replace any rear center head restraints if the pins are missing.
The Audi A3 and RS 3 recall began March 7, 2019, but customers with questions should call 800-253-2834 and ask for information about recall number 72I8.
CarComplaints.com has owner-reported complaints about the Audi A3 and many other Audi vehicles.