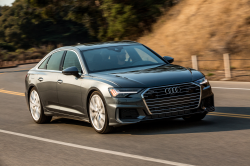 — An Audi recall has been issued for nearly 75,000 vehicles after finding fuel leaks in 2016-2018 Audi Q7, A6, A7 and 2015-2018 Audi A8 vehicles.
The automaker says the left and right fuel rails may leak fuel that can start fires if the fuel makes contact with an ignition source.
Audi received complaints in June 2017 about fuel odors from leaks on the fuel rails and opened an internal investigation into the complaints.
Engineers developed a test to simulate driving conditions but test results were wrong because the tests didn't match real-world driving. Audi finally found too many variations in the welding process of the fuel rail components by the supplier which allowed fuel to leak from the end caps.
Audi says in all circumstances the amount of leaked fuel remains small, but it's enough a driver may notice odors. Fires are also possible because fuel may leak from one or both fuel rails.
Audi customers probably already received recall notices or will over the next few days. Audi dealerships will need to replace the left and right fuel rails, but owners may call the automaker at 800-253-2834.
Audi's number for this recall is 24DP.