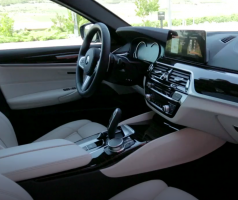 — BMW is recalling more than 257,000 vehicles because of problems with the image displays of the backup cameras.
Included in the recall is the Toyota Supra which was created in partnership with BMW.
2018 BMW 540d
2018-2020 BMW 530i
2018-2020 BMW 530i xDrive
2018-2020 BMW 540i
2018-2020 BMW 540i xDrive
2018-2020 BMW M550i xDrive
2018-2020 BMW M5
2018-2020 BMW 530e
2018-2020 BMW 530e xDrive
2018-2020 BMW X3 sDrive
2018-2020 BMW X3 xDrive
2018-2020 BMW X3 M40i
2018-2020 BMW X3 M
2019-2020 BMW X4 xDrive
2019-2020 BMW X4 M40i
2019-2020 BMW X4 M
2019-2020 BMW X7 xDrive
2019-2020 BMW X7 M50i
2019-2020 BMW 740Li
2019-2020 BMW 740Li xDrive
2019-2020 BMW 750Li
2019-2020 BMW 750Li xDrive
2019-2020 BMW 8 Series Convertible
2019-2020 BMW Coupe 840i
2019-2020 BMW 840i xDrive
2019-2020 BMW M850i xDrive
2019-2020 BMW X5 sDrive
2019-2020 BMW X5 xDrive
2019-2020 BMW X5 M50i
2019-2020 BMW X6 xDrive
2019-2020 BMW X6 M50i
2019-2020 BMW 330i
2019-2020 BMW 330i xDrive
2019-2020 BMW M340i
2019-2020 BMW M340i xDrive
2019-2020 BMW Z4 sDrive
2019-2020 BMW Z4 M40i
2019-2020 BMW 740Le xDrive
2019-2020 BMW 745Le xDrive
2018-2019 BMW 640i xDrive Gran Turismo
2018-2019 Rolls-Royce Phantom
2019 BMW M850i xDrive Gran Coupe
2019 Rolls-Royce Cullinan
2020 Toyota Supra
According to BMW, a driver could adjust the settings of the backup camera and display screen in such a way the rear image can't be seen. Then the system will save that setting the next time the vehicle is shifted into REVERSE.
The automaker learned about the problem when the National Highway Traffic Safety Administration contacted BMW about the backup camera system in a 2019 X4. BMW was asked to investigate and the automaker determined multiple models didn't conform to federal standards.
The standard is FMVSS 111 Section 5.5.6 which requires that a specified image of the area behind the vehicle be displayed each time the vehicle begins a backing event.
BMW says the faulty condition can occur if a driver adjusts the image shown by the backup camera system at or near the lowest brightness setting and at or near the highest contrast setting. In addition, Toyota recommends that drivers adjust the brightness and contrast to help them see the backup camera image.
Dealers will update the software for the backup cameras once the BMW recall begins November 19, 2019.
Affected customers who want to learn more may call BMW at 800-525-7417, Rolls-Royce at 877-877-3735 or Toyota at 888-270-9371.