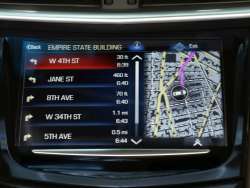 — Cadillac CUE problems have caused a class action lawsuit that includes customers who purchased or leased any of the following vehicles equipped with GM's "Cadillac User Experience" infotainment systems.
2013-2017 Cadillac ATS
2013-2017 Cadillac SRX
2013-2017 Cadillac XTS
2014-2017 Cadillac CTS
2014-2017 Cadillac ELR
2014-2017 Cadillac Escalade
According to complaints filed about CUE problems, the systems are supposed to provide occupants with navigation, climate controls, backup cameras and all audio/radio communications.
But Cadillac owners say the systems fail when the screens crack, delaminate and appear like spider webs, and allegedly making things worse is how the screens fail shortly after the warranties expire.
The class action lawsuit alleges Cadillac owners are forced to spend up to $1,500 or more to get the infotainment systems working again, and allegedly sometimes paying those amounts even when the vehicles are under their warranties. The plaintiffs also claim replaced CUE systems are just as defective as the original systems because the same faulty screens are used.
According to the seven plaintiffs who filed the class action, the CUE problems have existed from the time the vehicles were first sold, something General Motors allegedly refuses to acknowledge to continue selling the vehicles.
The automaker allegedly should be completely aware of the infotainment issues because of customer complaints, internal testing data, dealer records, warranty records and technical service bulletins (TSBs) sent to dealerships.
Based on court documents, GM won't recall the Cadillacs to permanently fix the CUE problems, hasn't offered customers suitable repairs or offered to reimburse customers for money spent to repair the systems.
The plaintiffs claim the defect is the plastic cover that delaminates and separates from the touchscreen glass, causing spider web patterns on the screens and leaving the screens unusable. This prevents anyone from using the systems because the CUE screens remain unresponsive.
From December 2014 to October 2018, GM issued at least four bulletins to dealerships concerning the CUE problems: TSBs PIC6055, PIC6055A, PIC6055B, PIC6055C.
The TSBs were sent out because "[s]ome customers may report that their radio screen appears bubbled, cracked, or is delaminating. If this concern is encountered, replace the ICS (Integrated Center Stack) by following the SI replacement procedure."
The plaintiffs allege the bulletins prove GM knew about the CUE problems and even included warranty codes in the bulletins to assist technicians with repair procedures.
The Cadillac CUE class action lawsuit was filed in the U.S. District Court for the Southern District of California - Goldstein, et al., v. General Motors LLC.
The plaintiffs are represented by Capstone Law, and Berger Montague.
CarComplaints.com has owner-reported complaints about the vehicles.