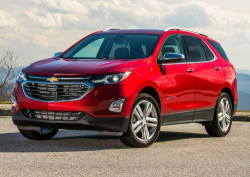 — A Chevrolet Equinox fuel tank recall has been issued for 2019-2020 Chevrolet Equinox all-wheel-drive SUVs, with 301 vehicles recalled in the U.S. and 61 recalled in Canada.
General Motors blames the problem on a seam on the gas tank that wasn't properly sealed, allowing fuel to leak near the fuel inlet.
Leaked fuel onto an ignition source will create a fire, or at least the risk of one.
GM doesn't know when the Chevrolet Equinox fuel tank recall will begin, but the automaker says the only way to fix the problem is to replace the fuel tanks.
If you own a 2019-2020 Chevrolet Equinox and have concerns, call GM at 586-596-1733 and ask about Equinox recall number, N192271870.
Customers in Canada may call 800-263-3777.
CarComplaints.com has owner-reported complaints about Chevy Equinox SUVs.