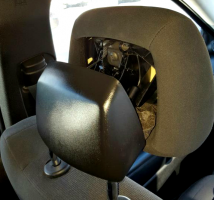 — A Chrysler active head restraint class action lawsuit is over after the plaintiffs failed to sufficiently allege the headrests are dangerous because they can deploy without external impacts to the vehicles.
Plaintiffs Wilma Perez and David Haldeman filed the class action lawsuit alleging Fiat Chrysler (FCA US) sold and leased Dodge Avengers and Jeep Cherokees with defective active head restraint systems.
According to the lawsuit, Chrysler allegedly concealed defects in the systems that caused injuries when the head restraints deployed without warning.
According to the lawsuit, Dodge Avenger and Jeep Cherokee active head restraints are made with defective plastic brackets that crack. When a vehicle is involved in a rear-end crash, the headrest quickly shifts forward to support the head and neck to prevent whiplash.
The lawsuit alleges Chrysler owners report neck, face and head injuries when the head restraints deploy without warning, with at least 91 complaints filed with the National Highway Traffic Safety Administration.
Owners allegedly complain about paying up to $800 to have the headrests reset once they deployed because it's not possible for a customer to reset the restraint once it has deployed.
The lawsuit was filed on behalf Florida Avenger and Cherokee owners and lessees who paid to have the active head restraints repaired because Chrysler refused to pay for repairs under warranty.
The plaintiffs had filed a third amended lawsuit that included claims for breach of express warranty, violation of the Florida Deceptive and Unfair Trade Practices Act (FDUTPA) and breach of implied warranties.
Chrysler filed a motion to dismiss and the judge wasted no time finding the plaintiffs waited too long to file warranty and FDUTPA claims, making the claims time-barred.
The judge also ruled in favor of FCA by concluding the plaintiffs failed to allege facts to state a warranty claim based on Chrysler's marketing and advertising. In addition, Chrysler argued the plaintiffs failed to allege sufficient facts to show "unconscionability."
In the end, the judge dismissed the entire lawsuit and because it was the third amended complaint filed by the plaintiffs, the judge ruled the suit was dismissed with prejudice.
Because the plaintiffs didn't appeal the ruling, attorneys for Chrysler filed a motion to collect $34,625 in fees and $2,139 in costs the automaker paid to defend the case, but the judge ruled the plaintiffs couldn't afford to cover the cost.
The Chrysler active head restraint lawsuit was filed in the U.S. District Court for the Middle District of Florida, Orlando Division - Perez, et al., v. FCA US, LLC.
The plaintiffs are represented by Osborne & Francis, PLLC.
CarComplaints.com has owner-reported complaints about Dodge Avengers and Jeep Cherokees.