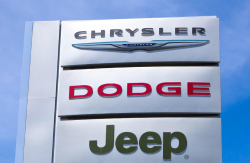 — A Chrysler catalytic converter recall has caused a proposed class-action lawsuit that alleges owners and lessees of the following gasoline-powered vehicles didn't get what they paid for.
2011-2016 Dodge Journey
2011-2014 Chrysler 200
2011-2014 Dodge Avenger
2011-2012 Dodge Caliber
2011-2016 Jeep Compass
2011-2016 Jeep Patriot
The plaintiff who filed the lawsuit says he purchased a 2015 Jeep Patriot in May 2015 and a 2016 Jeep Compass in March 2016, but he wouldn't have bought them if he would have known they needed repairs to the emissions systems. He also claims the vehicles may not retain their resale values and might not achieve the advertised fuel economy.
The plaintiff complains he has received no notice from Chrysler about any emissions problems, not surprising since the catalytic converter recall was announced only two days before the lawsuit was filed.
Nevertheless, the lawsuit alleges the announced recall repairs won't come fast enough for some customers who need their vehicles to pass emissions inspections.
According to the catalytic converter recall announced by the Environmental Protection Agency (EPA), nearly 900,000 Fiat Chrysler vehicles will be repaired in phases spread throughout 2019. The repair includes replacement of the catalytic converter and changes to the powertrain control module, but the first vehicles to be repaired are the oldest vehicles.
According to the recall, model year 2011 Chrysler, Dodge and Jeep vehicles were recalled by the end of March 2019, while model year 2012 vehicles will be recalled during the second quarter of 2019.
Customers of 2013-2014 vehicles will have their vehicles repaired during the third quarter of 2019, and 2015-2016 vehicles will be recalled between October and December 2019.
Chrysler says it will take time to buy 900,000 catalytic converters as replacement parts, thus forcing customers to wait for recall repairs even though the vehicles may not pass inspections without the repairs.
According to the lawsuit, this will cause owners and lessees to park their vehicles while waiting their turn for repairs. This could evolve into a huge disaster for Chrysler, Dodge and Jeep drivers who won't be able to renew their registrations because the vehicles won't pass emissions inspections.
And the news isn't good for California customers because the California Air Resources Board has already warned consumers "who fail to get the necessary repairs will not be able to register their vehicles."
The Chrysler catalytic converter lawsuit was filed in the U.S. District Court for the Eastern District of Michigan - James Maccariella, Jr., et al., v. Fiat Chrysler Automobiles N.V., et al.
The plaintiff is represented by Keller Rohrback.