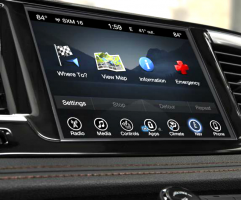 — A Chrysler 300 and Chrysler Pacifica Uconnect infotainment lawsuit alleges the systems have defects that cause malfunctions of the screens, backup cameras, navigation systems and climate control systems.
In addition, drivers of 2017-2019 Pacifica and 300 vehicles allegedly experience Bluetooth problems during hands-free calling.
The plaintiffs purchased a new 2018 Chrysler Pacifica and allegedly had problems with the Uconnect infotainment system that caused the rearview camera to fail when the minivan was shifted into REVERSE.
At other times the screen would continue to display the rearview camera image when the minivan wasn't in REVERSE.
According to the lawsuit, the plaintiffs returned the van to the dealership at least four times to determine what was causing the Uconnect problems. Technicians replaced certain parts and updated the infotainment system software, but the system allegedly continues to malfunction.
Chrysler markets the Uconnect infotainment system which lets drivers "[k]eep in touch where ever you go" with a smartphone that "integrates seamlessly with your available UConnect system to let you make and receive calls, reply to text messages, play songs from your smartphone, right from your Chrysler Brand vehicle."
According to the plaintiffs, they overpaid for their Pacifica which has a diminished value due to the Uconnect system.
The lawsuit also alleges the infotainment problems cause a safety risk because drivers are distracted by the Uconnect malfunctions.
The class action alleges Fiat Chrysler (FCA US) surely knows about the Uconnect problems because of warranty claims, repair orders and customer complaints.
"Over the air uconnect update caused the radio to freeze. As a result, the uconnect console screen is frozen or rather flashes the Chrysler/Sirius logo constantly. This 'update' disabled radio/Bluetooth/electronic controls/navigational/functions. Chrysler says it sent a 'fix' to the dealer. The dealer says it has not received it. I am in an endless loop."
"Our theater system has not worked properly since we purchased the new vehicle 4 months ago. The car is at the dealership for repair, but the software patches have not worked and have corrupted the entire system. Chrysler does not know how to fix the problem or what is causing the issue."
The class action lawsuit alleges breach of warranty, violation of the Consumer Legal Remedies Act and unfair business practices.
The Chrysler Pacifica and 300 Uconnect lawsuit was filed in the U.S. District Court for the Central District of California - Gerritsen, et al., v. FCA US, LLC, et al.
The plaintiffs are represented by Haffner Law PC.
CarComplaints.com has owner-reported complaints about the vehicles named in the class action lawsuit.