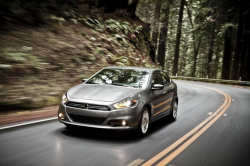 — A Dodge Dart shifter cable recall has been issued for nearly 323,000 cars equipped with 6-speed automatic transmissions.
The 2013-2016 Dodge Darts may have shifter cable bushings that fail and allow the cables to detach from the transmissions.
A driver can move the gear shifter but the transmission won't follow, including when a driver shifts into PARK.
Nearly 298,439 of the recalled Darts are in the U.S., another 20,117 are in Canada, Mexico is home to 3,389 recalled cars and outside North America 874 Dodge Darts will be repaired.
Fiat Chrysler (FCA US) says the transmission cable bushing can fall apart and cause the shift cable to detach, a problem that occurs only on Darts with automatic transmissions.
To prevent the car from rolling away, a driver should verify what the display says on the instrument cluster and on the display next to the gear shifter.
Additionally, "Vehicle Not in PARK" and "Door Ajar" messages will display on the instrument cluster and chimes will sound if the driver's door is opened while the transmission is not in PARK.
Chrysler says there will be no warning before the shift cable detaches from the transmission, but if the cable does disconnect a driver may notice the shifter moves without much effort.
The Dodge Dart shifter cable recall will begin in the U.S. May 31, 2019, when dealers will replace the transmission shifter cable bushings.
Dart drivers with questions should call 800-853-1403. Chrysler's number for this recall is V34.
CarComplaints.com has complaints from drivers of Dodge Dart cars.