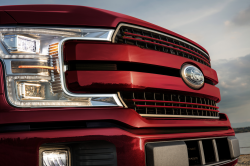 — A Ford F-150 recall has been issued to prevent fires in 2019-2020 trucks.
More than 168,000 F-150 trucks are recalled, including 135,725 in the U.S., 30,073 in Canada and 2,257 in Mexico.
Ford says the fasteners that secure the power distribution box cables and the battery monitoring system eyelets may loosen and cause problems with power braking, power steering and the instrument panels.
In addition to those problems, the automaker says the trucks could stall and resistive shorts could cause fires.
F-150 truck customers should watch for signs of intermittent or inoperative systems, smoke or melted parts.
The automaker says it is unaware of any crashes or injuries.
The 2019-2020 F-150 trucks were built in Michigan between July 15 and October 1, 2019, and in Kansas City from June 24 to October 1, 2019.
The F-150 recall is expected to begin November 25, 2019.
Ford dealers will inspect the positive battery cable joints for excess sealant adhesive and remove any excess adhesive, reassemble the joints and torque the fasteners to specification.
Owners may contact Ford at 866-436-7332 and refer to recall number 19S40.