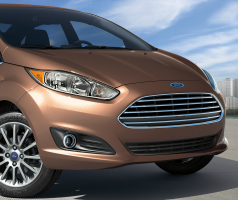 — Ford is recalling more than 13,500 Fiesta cars in Canada because of problems related to corrosion from the use of road salt in cold weather.
Recalled are 2012-2013 Ford Fiestas in the Canadian provinces of New Brunswick, Newfoundland, Labrador, Nova Scotia, Ontario, Prince Edward Island and Quebec.
Ford says the battery junction box can corrode from road salt used on icy roads, causing a loss of low-beam headlights and daytime running lights.
The recalled Fiesta cars were built from June 25, 2011, through April 27, 2013.
Canadian Ford dealers will clean the battery junction boxes, install foam sealing to the covers and replace any corroded fuses, terminals or relays.
Ford Fiesta drivers may call 800-565-3673 and refer to Ford's recall number, 19S28.
CarComplaints.com has owner-reported complaints about Ford Fiesta cars.