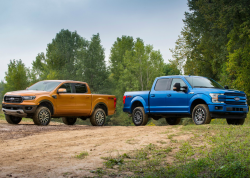 — A Ford Ranger recall has been ordered after at least seven incidents were reported due to the heating, ventilation and air conditioning (HVAC) blower motors that may cause overheating and fires.
The model year 2019 Ford Rangers have HVAC blower motors that may not have been built with the correct clearance between an electrical terminal and the base plate slot.
The clearance problem can cause an electrical short that causes the blower motor to melt, smoke or catch fire.
The automaker says there haven't been any reports of crashes or injuries, but six incidents have been reported in Ranger trucks before they were shipped to dealerships.
Additionally, a Ranger warranty claim was filed after the driver saw smoke coming from the truck.
Ford says the Ranger recall affects 17,965 trucks in the U.S. and 1,544 in Canada, and all the Rangers were built in Michigan between August 1 to September 27, 2019.
Ford knows the HVAC blower motor production dates, so dealerships will inspect the motors and replace them if they are within the part production dates.
If you own a 2019 Ford Ranger and have questions about the HVAC blower motor recall, call 866-436-7332 and ask about recall number 19S34.
CarComplaints.com has complaints about 2019 Ford Rangers and other Ranger model years.