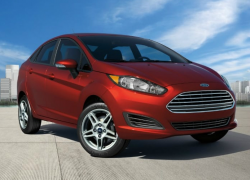 — A Ford Fiesta recall will see dealerships replace the front brake calipers and brake lines on model year 2019 Fiesta cars after mistakes were made during production.
About 2,600 cars in the U.S. have brake calipers that may leak brake fluid because the wrong fluid was used during assembly. Ford says the containers for the fluid used during production had the wrong labels. The brakes may drag and overheat the pads once enough brake fluid leaks from the calipers.
Ford dealerships will flush the brake fluid and replace the front brake calipers and brake lines, but Ford didn't say when the recall will begin.
The recalled 2019 Ford Fiestas were built at the Cuautitlán assembly plant in Mexico from July 22, 2019, through August 1, 2019.
If you own a 2019 Ford Fiesta and have questions, call 866-436-7332 and ask about recall number 19S27.
CarComplaints.com has complaints about 2019 Ford Fiestas and other Fiesta model years.