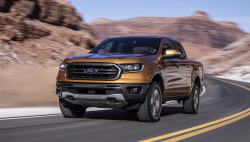 — A 2019 Ford Ranger recall has been ordered because the trucks can roll away due to problems with the gear shifter interlock functions.
About 3,000 Ranger trucks in the U.S. and another 500 in Canada could allow drivers to shift the transmissions out of PARK even though the trucks are turned off.
Drivers could also shift the transmissions out of PARK without pushing the brake pedals.
Ford says wiring can interfere with the shifter interlock override and prevent the gear shifter from locking in the PARK position. The Ranger trucks could literally unintentionally roll into anything, but the automaker says no crashes or injuries have been reported so far.
The recalled 2019 Ford Rangers were built in Michigan between June 4, 2018, to January 9, 2019.
The recall begins February 22, 2019, when technicians will verify shifter interlock functionality by attempting to move the gear shifter out of PARK with the trucks shut off and without touching the brake pedals.
The technician will look for wiring interference if the shifter moves out of PARK then relocate the wiring and retest it.
If you own a 2019 Ford Ranger and have questions about the recall, call 866-436-7332 and refer to recall number 19C02.
CarComplaints.com has complaints about Ford Rangers going back to 1984 models.