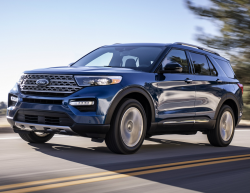 — A 2020 Ford Explorer and Lincoln Aviator recall is necessary because the new SUVs may already have two problems.
The 2020 Ford Explorer and Lincoln Aviator recall includes nearly 14,000 SUVs in the U.S. and nearly 240 in Canada, but Ford says most are still at dealerships.
One problem is a missing manual PARK release cover that federal regulators say must be in place and removable only with a tool. A missing cover exposes the manual PARK release lever that may inadvertently be activated, allowing the vehicle to roll away if the electronic parking brake isn't applied.
The other problem is the instrument cluster that may still be in factory mode, something used to reduce the drain of the battery during vehicle production. This will disable the warning alerts and chimes and prevent display of the gear positions, including which gear is selected.
Federal vehicle safety standards require the gear positions and selected gear to be displayed whenever the shifter is not in PARK.
The automaker says one incident occurred at a plant as a vehicle was being transported, but Ford doesn't know of any crashes or injuries.
The 2020 Ford Explorers were built from March 27, 2019, to July 24, 2019, and the 2020 Lincoln Aviators were manufactured between April 10, 2019, and July 24, 2019. All the recalled SUVs came from Ford's Chicago assembly plant.
Ford and Lincoln dealerships will install any missing PARK release covers, clear any diagnostic trouble codes and verify the instrument clusters are out of factory mode.
Affected customers may call 866-436-7332 and refer to recall number 19C06.
CarComplaints.com has owner-reported complaints about Ford Explorers and Lincoln Aviators.