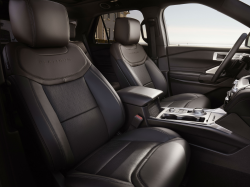 — A Ford seatback recall has been ordered for more than 550,000 vehicles with faulty recliner mechanisms that may not hold occupants in crash impacts.
2018-2020 Ford F-150
2019-2020 Ford F-Series Super Duty
2018-2020 Ford Explorer
2019-2020 Ford Expedition
2020 Lincoln Aviator
Ford notes most of the recalled vehicles are equipped with manual driver-side and/or passenger-side seatback recliner mechanisms. However, the 2020 Ford Explorers and 2020 Lincoln Aviators are equipped with rear outboard seats with manual seatback recliner mechanisms.
The National Highway Traffic Safety Administration (NHTSA) hasn't released details, but Ford says the vehicles may be missing the third pawls required for seatback strength.
About 483,325 recalled vehicles are in the U.S., 58,712 are in Canada and 8,149 will be called back in Mexico.
The 2018-2020 Ford F-150s were built from September 14, 2018, to August 7, 2019, and from September 11, 2018, through August 2, 2019.
The 2019-2020 Ford F-Series Super Duty trucks were built September 9, 2018, through July 22, 2019, and from September 11, 2018, through July 17, 2019.
The automaker says the 2018-2019 Ford Explorers were manufactured September 9, 2018, through March 3, 2019, and the 2019-2020 Ford Expeditions were produced October 16, 2018, to July 24, 2019.
Model year 2020 Ford Explorer SUVs were built from November 21, 2018, through August 21, 2019, and 2020 Lincoln Aviator vehicles were manufactured April 12, 2019, to July 16, 2019.
Ford and Lincoln dealerships will inspect the seats and replace the seat structures if necessary.
If you have questions about the recall, call 866-436-7332 and make reference to recall number 19C07.
CarComplaints.com has complaints from owners of the vehicles named in the seatback recall.