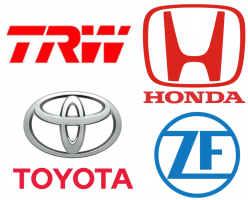 — A ZF-TRW airbag control unit lawsuit alleges electrical overstress damages components inside the control units and leaves the airbags without the ability to deploy.
In addition to ZF-TRW, the lawsuit also names Honda and Toyota as defendants for equipping millions of vehicles with the defective control units.
The proposed class action lawsuit includes former and current lessees and owners of the following vehicles equipped with ZF-TRW airbag control units.
2014-2019 Acura RLX
2014-2019 Acura RLX Hybrid
2012-2014 Acura TL
2015-2017 Acura TLX
2012-2014 Acura TSX
2014 Acura TSX Sport Wagon
2012-2013 Acura TSX Sportswagon
2013-2015 Honda Accord
2014-2015 Honda Accord Hybrid
2012-2015 Honda Civic
2012-2015 Honda Civic GX
2012-2015 Honda Civic Hybrid
2012-2015 Honda Civic Si
2012-2016 Honda CR-V
2012-2017 Honda Fit
2013-2014 Honda Fit EV
2012-2014 Honda Ridgeline
2012-2018 Toyota Avalon
2013-2018 Toyota Avalon Hybrid
2011-2019 Toyota Corolla
2017-2018 Toyota Corolla iM
2011-2013 Toyota Corolla Matrix
2012-2017 Toyota Sequoia
2012-2019 Toyota Tacoma
2012-2017 Toyota Tundra
The airbag control unit is used to sense whether to deploy airbags in a crash, and inside the unit is an application specific integrated circuit (ASIC) that monitors signals from crash sensors.
However, the plaintiff claims the ASIC is damaged when the airbag control unit suffers electrical overstress conditions caused by harmful electrical signals. This can cause the airbag control units to fail which disables the airbags.
According to the lawsuit, numerous other vehicles are also equipped with the allegedly faulty ZF-TRW airbag control units, leaving open the possibility these vehicles could be added to the lawsuit later.
2010-2011 Dodge Nitro
2009 Dodge Ram 1500
2010 Dodge Ram 3500
2012-2019 Fiat 500
2013-2019 Hyundai Sonata
2013-2019 Hyundai Sonata Hybrid
2015-2017 Jeep Compass
2010-2012 Liberty
2015-2017 Jeep Patriot
2010-2018 Jeep Wrangler
2013 Kia Forte
2013 Kia Forte Koup
2013-2019 Kia Optima
2012-2016 Kia Optima Hybrid
2014 Kia Sedona
2013-2017 Mitsubishi Lancer
2013-2015 Mitsubishi Lancer Evolution
2014-2015 Mitsubishi Lancer Ralliart
2013-2016 Mitsubishi Lancer Sportback
2013 Mitsubishi Outlander
2009-2012 Ram 1500
2010-2012 Ram 2500
2010-2012 Ram 3500
2011-2012 Ram 4500
2011-2012 Ram 5500
The lawsuit was filed just days after the National Highway Traffic Safety Administration opened a formal investigation of 12.3 million vehicles equipped with the same airbag control units.
The plaintiff claims the defective parts have caused "numerous injuries and deaths," yet ZF-TRW has continued to manufacture and sell the faulty components. Additionally, Honda, Toyota and other automakers have continued to equip their vehicles with the defective control units.
The ZF-TRW airbag control unit lawsuit was filed in the U.S. District Court for the Eastern District of Michigan, Southern Division - Samouris, et al., vs. ZF-TRW Automotive Holdings Corp., et al.
The plaintiff is represented by Kessler Topaz Meltzer & Check, LLP.