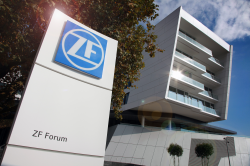 — About 12.3 million vehicles are under federal investigation because they are equipped with ZF-TRW airbag control units that may fail and cause airbag failures.
Included in the investigation are vehicles from Chrysler (FCA US), Honda, Hyundai, Kia, Mitsubishi and Toyota.
2014-2019 Acura RLX
2014-2019 Acura RLX Hybrid
2012-2014 Acura TL
2015-2017 Acura TLX
2012-2014 Acura TSX
2014 Acura TSX Sport Wagon
2012-2013 Acura TSX Sportswagon
2010-2011 Dodge Nitro
2009 Dodge Ram 1500
2010 Dodge Ram 3500
2012-2019 Fiat 500
2013-2015 Honda Accord
2014-2015 Honda Accord Hybrid
2012-2015 Honda Civic
2012-2015 Honda Civic GX
2012-2015 Honda Civic Hybrid
2012-2015 Honda Civic Si
2012-2016 Honda CR-V
2012-2017 Honda Fit
2013-2014 Honda Fit EV
2012-2014 Honda Ridgeline
2013-2019 Hyundai Sonata
2013-2019 Hyundai Sonata Hybrid
2015-2017 Jeep Compass
2010-2012 Jeep Liberty
2015-2017 Jeep Patriot
2010-2018 Jeep Wrangler
2013 Kia Forte
2013 Kia Forte Koup
2013-2019 Kia Optima
2012-2016 Kia Optima Hybrid
2014 Kia Sedona
2013-2017 Mitsubishi Lancer
2013-2015 Mitsubishi Lancer Evolution
2014-2015 Mitsubishi Lancer Ralliart
2013-2016 Mitsubishi Lancer Sportback
2013 Mitsubishi Outlander
2009-2012 Ram 1500
2010-2012 Ram 2500
2010-2012 Ram 3500
2011-2012 Ram 4500
2011-2012 Ram 5500
2012-2018 Toyota Avalon
2013-2018 Toyota Avalon Hybrid
2011-2019 Toyota Corolla
2017-2018 Toyota Corolla iM
2011-2013 Toyota Corolla Matrix
2012-2017 Toyota Sequoia
2012-2019 Toyota Tacoma
2012-2017 Toyota Tundra
The airbag control unit contains what's known as an "application specific integrated circuit" (ASIC) used to monitor signals from the crash sensors. Failures of the circuits affect the control units which affect the airbags and can prevent them from deploying.
Safety regulators currently believe a crash can lead to harmful signals on the sensor wiring and causes damage to the integrated circuits. NHTSA says all automakers use airbag control units that should protect the circuits from harmful signals, but the manufactures use different methods to do that.
NHTSA opened an investigation into airbag failures in Hyundai and Kia vehicle due to reports of six injuries and four deaths in vehicles where the airbags failed to deploy.
The government knew the automakers believed electrical overstress in ZF-TRW components was likely caused by harmful signals on the crash sensor wiring, something that caused Hyundai to recall 155,000 model year 2011 Sonata cars.
Kia also recalled about 507,000 vehicles for the same airbag problems, and Fiat Chrysler did the same with 1.9 million vehicles in 2016.
Chrysler ordered the recall due to the same ZF-TRW airbag system components but the automaker also noted the airbag non-deployments occurred in vehicles equipped with sensor harnessing routed across the front of the vehicles.
NHTSA paid attention to this fact because the same ZF-TRW airbag control units are used in other Chrysler vehicles but those vehicles didn't experience the problems. However, the vehicles that weren't affected didn't have harnessing routed across the front of the vehicles.
Actions taken by Hyundai, Kia and FCA may not have been enough because NHTSA found two recent frontal crashes in Toyota vehicles where electrical overstress is suspected as the cause of airbag failures.
The crashes occurred in 2018 and 2019 Toyota Corollas equipped with ZF-TRW airbag control units, with one crash causing the death of an occupant.
Another connection between Toyota and the other automakers is how the airbag control units couldn't be read with the event data recorders after the crashes.
As for Honda and Mitsubishi, so far NHTSA hasn't found any problems even though the vehicles use the same ZF-TRW airbag control units.
CarComplaints.com will update our website with results of the ZF-TRW investigation.