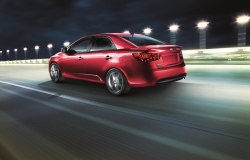 — Kia is recalling more than 507,000 of the following vehicles in the U.S. to repair frontal airbags that may fail in a crash.
2010-2013 Kia Forte, Forte Koup
2011-2013 Kia Optima
2011-2012 Kia Optima Hybrid
2011-2012 Kia Sedona
The National Highway Traffic Safety Administration opened an investigation into airbag failures in Hyundai and Kia vehicles in March 2018 after reports of four deaths and six injuries.
Then Hyundai recalled 155,000 Sonatas in March and another 580,000 cars in April to fix problems with electrical overstress conditions.
According to Kia, the airbag control units manufactured by ZF TRW may short-circuit and block the frontal airbags and seat belt pretensioners from deploying. The airbag control units were manufactured without specific circuit-protecting diodes, leaving the control units susceptible to internal electrical overstress conditions that damage the units.
The 2010-2013 Kia Fortes were built February 24, 2009, until August 31, 2012.
The 2010-2013 Forte Koups were produced between June 5, 2009, and August 31, 2012.
Model year 2011-2013 Optimas were built between August 12, 2010, and August 31, 2012, and the hybrid versions were manufactured from February 15, 2011, to August 31, 2012.
Finally, the 2011-2012 Sedona cars were built between March 3, 2010, and August 14, 2012.
Kia says it is still trying to find a fix for the airbag problems, but as of now the recall is scheduled to begin July 27, 2018. The automaker says it will reimburse any owner who paid for repairs related to the airbag control units.
Concerned Kia owners should call 800-333-4542 and ask about recall number SC165.
The defective ZF TRW airbag control units have not only raised hell for Hyundai and Kia owners but also for Chrysler owners who were caught up in the mess in 2016 when the automaker recalled 1.9 million vehicles due to the control units.
CarComplaints.com has complaints from drivers of the Kia vehicles named in the airbag recall: