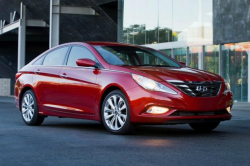 — A Hyundai Sonata recall has been expanded to include 580,000 model year 2011-2013 Sonatas and 2011-2012 Sonata Hybrids equipped with airbags that may fail in a crash.
The automaker says deaths and injuries have already been reported because the seat belt pretensioners and airbags failed. The cars are equipped with airbags control units with electrical circuits that can suffer from electrical overstress.
The identical problem caused the automaker to recall 155,000 model year 2011 Sonatas in March but Hyundai said it didn't know how it was going to fix the problem.
The airbag problems can be traced back to February 2012 when the airbags failed to deploy in a 2011 Hyundai Sonata. Engineers inspected the car but couldn't find evidence of a crash event having been recorded, so Hyundai contacted supplier ZF TRW.
An inspection determined numerous aftermarket accessories installed on the 2011 Sonata caused the airbags to fail.
But three years later Hyundai learned of another incident that involved a 2011 Sonata and engineers found the airbag control unit wasn't working because of internal electrical overstress.
Between July and November 2016, Hyundai received two additional reports of airbag failures in collisions involving 2011 Hyundai Sonatas, so once again the automaker contacted ZF TRW for assistance.
Hyundai hired a third-party engineering company to research the airbag failures and it was then the automaker realized Chrysler had suffered the same airbag problems that caused a 2016 recall of 1.9 million cars and SUVs.
The Chrysler vehicles also used ZF airbag control units that led to the deaths of three people and injuries to five occupants.
Hyundai says the Sonata and Sonata Hybrid cars have airbag control units that are missing specific circuit-protecting Schottky diodes.
In addition to real-world crashes, Hyundai performed crash tests that proved the airbags and seat belt pretensioners can fail from electrical overstress inside the control units.
The automaker says it is still working with ZF TRW to investigate the airbag failures, including if automakers other than Hyundai and Chrysler may be impacted by the same airbag control units.
The recalled 2011-2013 Hyundai Sonatas were built in Alabama between December 11, 2009, and August 31, 2012. The 2011-2012 Sonata Hybrids were built in Korea between December 2, 2010, and August 23, 2012.
Affected Sonata owners should be receiving recall notices within days, but any questions or concerns should be directed to Hyundai at 855-371-9460. Hyundai's number for this recall is 174.
CarComplaints.com has complaints you can read about Hyundai Sonatas and Hyundai Sonata Hybrids.