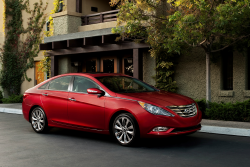 — Hyundai is recalling nearly 155,000 model year 2011 Sonata cars with frontal and side airbags that may fail to deploy in a crash.
The automaker is aware of three crashes where the airbags failed to deploy because of possible problems with electrical shorts inside the airbag control units. A fourth incident is currently under investigation.
The airbag control unit detects crash signals and send commands to deploy the airbags and seat belt pretensioners. Hyundai says engineers found electric shorts on integrated circuits inside the control units.
Hyundai learned of a crash in 2012 where the airbag failed to deploy and engineers determined there was no crash event recorded. After contacting the supplier, Hyundai found the electrical stress was caused by numerous aftermarket accessories the owner had installed.
In 2015, the automaker learned of another crash involving a 2011 Sonata in which the airbags failed to deploy because of the same electrical overstress problem. Hyundai searched for additional incidents but found none, but between July and November 2016, the automaker was contacted about two crashes where the airbags failed to deploy.
Federal safety regulators contacted Hyundai about one of the incidents, causing Hyundai to hire a third-party engineering company to investigate the problems. This led to a decision to recall the Sonatas.
The recall includes Hyundai Sonatas made in Alabama between December 11, 2009, and September 29, 2010.
Hyundai is trying to figure out how to repair the 2011 Sonatas before the recall begins April 20, 2018.
Affected Sonata owners with questions should call 855-371-9460. Hyundai's number for this recall is 174.
CarComplaints.com has complaints about the 2011 Hyundai Sonata and other model years of Sonata cars.