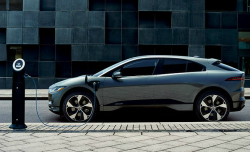 — Jaguar is recalling more than 3,400 I-PACE electric SUVs because of problems with the braking systems.
Jaguar says if the electrical regenerative brake system fails, there will be a delay between the time a driver hits the brake pedal and the vehicle slowing down.
Delays in acceleration in the 2019-2020 I-PACE SUVs will cause increased stopping distances and increase the risk of crashes.
The problem was discovered after Jaguar opened an investigation in April after meeting with engineers concerning design testing for a 2021 prototype car.
Although the braking problem will be noticeable, Jaguar says "foundation braking functionality" will not be affected.
No crashes or injuries have been reported related to the regenerative braking systems.
Nearly 3,100 of the SUVs are in the U.S. and another 378 are recalled in Canada.
The I-PACE recall is scheduled to begin July 1, 2019. Jaguar dealers will update the software to reduce the delay in braking performance.
SUV owners may call 800-637-6837 and refer to recall number H213.