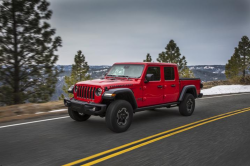 — A model year 2020 Jeep Gladiator recall is necessary because the driveshafts may break and separate from the vehicles.
The 3,670 Gladiators may have been assembled without grease in the monoblock joints, which are constant velocity (CV) joints within the center of the driveshafts.
A monoblock joint without grease may overheat and seize, causing the rear driveshaft to fracture and put a stop to forward motion of the Gladiator. Additionally, a driveshaft that completely separates could become a road hazard to other drivers and their vehicles.
In June 2019, Fiat Chrysler (FCA) received four rear driveshafts that had been removed from the vehicles due to warranty-covered repairs. The driveshafts were sent to the supplier which determined all four driveshafts were assembled without grease in the monoblock joints due to a grease bypass buttons at the assembly line station.
Chrysler opened an investigation based on the four warranty claims made on the new 2020 Gladiators, then learned about two more driveshafts that didn't have grease in the monoblocks.
A broken driveshaft could cause a lot of problems while driving, but Chrysler says it doesn't know of any crashes or injuries related to the problem.
The 2020 Jeep Gladiators were built between December 15, 2018, and June 25, 2019.
FCA says it's possible a driver will hear a noise or feel vibrations before the driveshaft breaks.
There are 3,427 recalled Gladiators in the U.S. and 243 are recalled in Canada.
The Jeep Gladiator recall is expected to begin October 18, 2019. Jeep dealers will replace the driveshafts, but customers with questions should call 800-853-1403 and make reference to recall number V95.