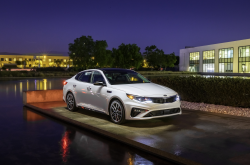 — A Kia Optima recall includes more than 11,400 cars because the forward collision avoidance systems may fail due to software errors.
The 2019 Kia Optima may suffer from braking assist failure when a forward vehicle is detected in the road.
According to Kia, the recalled 2019 Optimas are equipped with Gamma 1.6-liter turbo GDI or Theta II 2-liter turbo GDI engines.
Kia's forward collision avoidance system detects and monitors the vehicle ahead to warn a driver of an imminent crash, applying the brakes if the driver doesn't. The loss of brake assist means the system is pretty much useless.
Supplier Hyundai MOBIS found possible software errors in the system in a Korean Optima used as a taxi, then determined the errors may be widespread. Kia worked with the supplier to investigate the system failures but found no customer complaints, warranty claims or crashes.
Kia updated the forward collision software during production on May 30, but now dealers will need to do the same to the recalled Optima cars.
The recall is expected to begin August 27, 2019. Optima drivers may contact Kia at 800-333-4542 and refer to recall number SC179.
CarComplaints.com has complaints from Kia Optima owners.