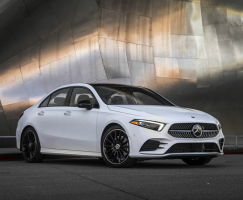 — More than 2,200 Mercedes vehicles are recalled because the driver's side frontal airbags may not deploy in crash impacts.
2019-2020 Mercedes-Benz A220
2019-2020 Mercedes-Benz A220 4Matic
2020 Mercedes-Benz CLA250
2020 Mercedes-Benz CLA250 4Matic
2020 Mercedes-Benz GLC300 Coupe 4Matic
2020 Mercedes-Benz GLC300
2020 Mercedes-Benz GLC300 4Matic
Mercedes says all four lock nuts that secure the driver's side frontal airbag may not have been installed based on correct specifications.
Mercedes was contacted by the supplier of the airbag modules, ZF-TRW, which opened an internal investigation to determine if Mercedes received any of the faulty lock nuts. And the automaker contacted all assembly plants worldwide to block vehicles from being released.
A driver will have no warning of a problem until the airbag fails when it should deploy, and Mercedes says it ordered the recall because there is no guarantee a potential safety risk doesn't exist.
The airbag lock nut recall is expected to begin November 26, 2019, when dealers will replace any faulty airbag modules.
Affected Mercedes drivers with questions should call 800-367-6372.
CarComplaints.com has complaints from drivers of Mercedes-Benz vehicles.