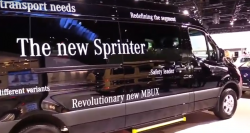 — A 2019 Mercedes-Benz Sprinter VS30 recall has been issued for nearly 1,200 vans equipped with rear LED fog lights.
Mercedes says drivers can turn on the fog lights but they may fail to work.
The automaker says a possible error in the control unit body controller may occur.
Technically speaking, engineers say the "minimum pulse length required by the LED rear light to switch on the rear fog lamp is only reached below a vehicle electrical system voltage of 14.1 volts."
However, Mercedes says the electrical system voltage may be higher in the vans.
A driver won't know the lights are out because the display in the instrument cluster will indicate the fog lights are illuminated, giving drivers a false sense of security when driving in fog.
The 2019 Mercedes-Benz Sprinter VS30 recall is expected to begin on April 19, 2019. Mercedes dealerships will update the control unit body controller software settings.
Van owners may contact Mercedes-Benz customer service at 877-762-8267.
This is the second model year 2019 Sprinter VS30 recall in a month following warning from the automaker to stop driving the vans because they could lose all steering control.