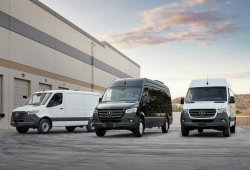 — Daimler is warning 2019 Mercedes-Benz Sprinter VS30 owners to stop driving their vehicles to avoid a complete loss of steering.
More than 4,300 VS30 vans are recalled because the steering shafts that connect to the steering gears can disconnect without warning.
Daimler says the steering shaft is connected to the steering gear with bolts tightened by an electronic screwdriver that measures the torque value applied and the angle of the bolt.
An alert triggers if the electronic screwdriver finds the torque is outside specifications so the process can be manually inspected.
However, due to production changes the manual reviewers ended up checking the wrong bolts.
A Mercedes dealer first noticed the problem in January when a van lost steering control during an inspection of the vehicle. Assembly plant workers were retrained to ensure the correct bolts are inspected and to verify the bolts are tight enough but not so tight as to sit fully flush with the steel backing.
Because 2019 Mercedes-Benz Sprinter VS30 owners are advised to park their vehicles, Daimler will tow the vehicles to dealerships or arrange for the bolts to be inspected and adjusted at the customer's location.
Mercedes-Benz Sprinter VS30 customers with concerns should call 800-367-6372. Daimler Van's number for this recall is 2019010006.