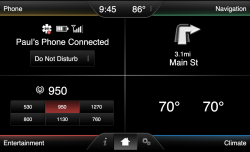 — A MyFord Touch class action lawsuit has been preliminarily approved after years of both sides arguing in front of a California federal judge.
The lawsuit started as a proposed nationwide class action, but by the end included Ford and Lincoln customers in only seven states: California, Massachusetts, New Jersey, North Carolina, Ohio, Virginia and Washington.
According to the lawsuit, the Ford or Lincoln vehicles must be equipped with MyFord Touch or MyLincoln Touch systems, and the vehicles must have been sold or leased by Ford dealers before August 9, 2013.
Customers complained they suffered with MyFord Touch systems that crashed, blacked out, froze, failed to respond to voice or touch commands and backup camera displays that failed or showed previous images.
Ford denies any wrongdoing and agreed to settle the lawsuit to put the matter to bed.
The class action settlement says customers will be able to obtain for free the latest version 3.10 or later MyFord Touch software update, but Ford points out the software update has already been free to the public through the Ford website.
Customers can download and install the updates or contact Ford dealers for assistance, and dealers will further assist customers with any related software issues for one year after installation.
Affected customers in the seven states may also receive compensation based on eligibility requirements and if a customer can provide evidence they sought one or more repairs to the MyFord Touch system.
Within the first 180 days of the preliminary approval order of the class action, a customer may receive $100 if their system was repaired once, $250 if repaired twice and $400 if the customer sought three or more repairs.
For repairs made after the warranty expired, a customer will have 180 days of the preliminary approval order to submit a valid claim showing they paid for repairs to the system.
The customer may receive a full reimbursement of the paid-for repair by providing evidence the repair occurred within one year after the expiration of the MyFord Touch extended warranty.
An eligible customer may also receive $45 if they experienced two or more cases where the system didn't work properly.
The agreement also says original owners and lessees of Ford and Lincoln vehicles will receive $55 if they received one or more MyFord Touch software warranty repairs. Additionally, a Ford customer who does not submit an official claim may still receive $20 to $55.
As part of the settlement agreement, Ford has agreed to pay $16 million to attorneys for the plaintiffs.
Ford customers who want to exclude themselves from the MyFord Touch class action settlement, or who want to object to the settlement terms, may do so by September 20, 2019.
The deadline to submit valid claims is September 24, 2019, and the Court will hold a final fairness hearing November 21, 2019.
Ford and Lincoln owners and lessees who want to know more should visit www.MyFordTouchClassAction.com.
The MyFord Touch class action lawsuit was filed in the U.S. District Court for the Northern District of California, San Francisco Division - In Re: MyFord Touch Consumer Litigation.
The plaintiffs are represented by Hagens Berman Sobol Shapiro LLP, Baron & Budd, P.C., DiCello Levitt & Casey LLC, and Chimicles Schwartz Kriner & Donaldson-Smith LLP.