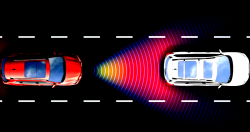 — A Nissan automatic emergency braking lawsuit alleges all 2017-2019 vehicles equipped with the systems are at risk of sudden collisions caused by malfunctions of the technology.
Nissan's forward emergency braking/automatic emergency braking technology uses radar to detect a forward collision with an object or pedestrians.
According to the lawsuit, the system will apply the brakes when an imminent collision is detected. But the systems allegedly activate without warning while driving through intersections, bridges, railroad tracks and during numerous other driving conditions.
The class action was filed by Connecticut plaintiff Lakeita Kemp who owns a 2019 Nissan Altima equipped with the automatic emergency braking system.
Kemp says she started having problems with the braking system within weeks of buying the car, including in parking garages when the brakes locked up as she approached a ramp.
Kemp claims she wouldn't have purchased the car, or would have paid less for it, if Nissan would have told her the Altima wasn't safe and reliable. However, the plaintiff doesn't say how much less she would have paid for a car that wasn't reliable or safe.
The plaintiff also claims she made the dealership aware of the problem but allegedly received no "effective remedy."
According to the lawsuit, Nissan introduced what it called "forward emergency braking" in the 2015 Murano, then expanded the optional feature to the Nissan Altima, Maxima and Rogue.
In 2018 the automaker changed the name of the technology to "automatic emergency braking" and made it a standard feature on the Rogue, Rogue Sport, Altima, Murano, LEAF, Pathfinder, Maxima and Sentra.
Plaintiff Kemp claims Nissan knows the systems can malfunction because dealerships were sent technical service bulletin (TSB) NTB18-041a which said the technology could activate unexpectedly in 2017-2018 Rogue, Rogue Sport and Rogue Hybrid vehicles.
The TSB provides an alleged remedy to the problem, but the plaintiff claims multiple models are still affected by the unexpected engagements of the systems.
Nissan also allegedly knows about automatic emergency braking malfunctions in hundreds of thousands of vehicles because of owner complaints, but customers have allegedly been told the systems weren't defective and technicians have refused to repair the alleged malfunctions.
The subject was recently brought up to the National Highway Traffic Safety Administration (NHTSA) when the Center for Auto Safety petitioned the government to investigate Nissan's automatic emergency braking systems. In September, NHTSA opened an investigation into 2017-2018 Nissan Rogue automatic emergency braking malfunctions.
Safety regulators said they were aware of 843 complaints, 14 crashes and five injuries attributed to the systems.
The Nissan automatic emergency braking lawsuit was filed in the U.S. District Court for the Middle District of Tennessee - Kemp, et al., v. Nissan North America, Inc., et al.
The plaintiff is represented by Branstetter, Stranch & Jennings, and Cohen & Malad.