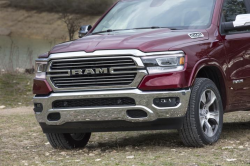 — A Ram 1500 EcoDiesel coolant leak recall has been issued for nearly 160,000 trucks because the exhaust gas recirculation (EGR) coolers may leak coolant and possibly cause fires.
Recalled are 2014-2019 Ram 1500 EcoDiesel trucks that can develop micro-cracks in the EGR coolers which allow coolant to leak, something Chrysler says has caused a "small number of fires" and four minor injuries.
Fiat Chrysler (FCA US) says the injuries occurred as people tried to extinguish the fires located in the engine compartments.
FCA says it discovered the coolant leaks by using dealer reports and other data to monitor the trucks in the field. In this case, what the automaker saw caused it to open an internal investigation which found what Chrysler says are "microscopic cracks" in the EGR coolers.
Although fires and injuries have been reported, the automaker says it isn't aware of any crashes associated with the EGR coolers.
According to the automaker, 107,898 Ram 1500 trucks are recalled in the U.S., more than 50,000 trucks are recalled in Canada and 1,730 are recalled outside North America.
Owners of 2014-2019 Ram 1500 EcoDiesel trucks are warned to keep their eyes on coolant levels and other signs of possible leaks. Affected owners should contact their dealerships if coolant leaks are suspected.
Chrysler didn't say when the Ram 1500 EGR cooler recall will begin or what type of repairs will be performed by dealerships.
Ram 1500 EcoDiesel truck owners with concerns should call FCA at 800-853-1403.
CarComplaints.com has complaints from drivers of Ram trucks:
Ram 1500 Complaints - 2014 / 2015 / 2016 / 2017 / 2018 / 2019