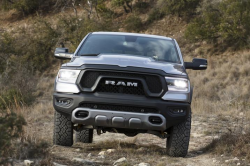 — Fiat Chrysler (FCA) is recalling more than 17,000 model year 2018-2019 Ram 1500 trucks because the driveshafts may break due to weld problems.
FCA opened an investigation in August 2018 after receiving six warranty claims for busted driveshafts that were built within a month of each other, and all the vehicles had less than 5,000 miles.
The supplier found problems with the welds where the tubes and yokes interfaced, but by December 2018 no additional broken driveshafts were reported.
In January 2019, the automaker learned about two more busted driveshafts that were built in the same range as the previous broken driveshafts. The supplier found the same weld problems, but this time higher mileage trucks were involved.
Although warranty claims and complaints have been received, Chrysler says it isn't aware of any crashes or injuries related to the broken driveshafts.
A driver may hear noise or feel vibrations prior to the weld completely separating.
The 4x4 Ram 1500s were built between March 16, 2018, and April 20, 2018, with 10,160 of the recalled trucks in the U.S., and another 6,686 recalled in Canada.
The Ram 1500 driveshaft recall will begin June 15, 2019, when dealers will replace the rear driveshafts.
If you own a 2018-2019 Ram 1500 and want to learn more about the driveshaft recall, please call FCA at 800-853-1403 and mention recall number V48.