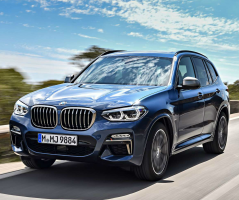 — BMW is warning owners not to drive their 2020 X3 sDrive30i, X3 xDrive30i, X3 M40i, X4 xDrive30i and X4 M40i vehicles until dealerships replace the front axle swivel bearings.
The automaker says the swivel bearings may not have been properly heat treated during manufacturing, reducing their strength to the point of breaking.
Busted swivel bearings will cause a driver serious problems while trying to keep the vehicle under control, which is why BMW says to park the vehicles until they are repaired.
Nearly 370 of the recalled vehicles are in the U.S., and 71 are recalled in Canada.
BMW has allegedly already contacted all the owners warning them to park the vehicles until dealerships replace the bearings.
Affected U.S. customers may call the automaker at 800-525-7417 and owners in Canada may call 800-567-2691.