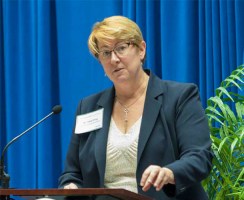 — The U.S. Senate Committee on Commerce, Science and Transportation has advanced the appointment of Heidi King to sit in the driver's seat of the National Highway Traffic Safety Administration (NHTSA).
In a 14-12 vote by Committee members, President Trump's choice to head NHTSA will now move to a full vote by the Senate a year after Trump nominated King.
According to her bio, King is an economist and research scientist who worked in both government and private sectors. In addition, she worked as a California State Park Ranger and a volunteer emergency medical technician and has a particular interest in the development of automated driving systems.
However, in the past year consumer advocates have fought the appointment of King after watching her interim leadership as NHTSA's deputy administrator.
The Center for Auto Safety (CAS) strongly disagreed with King's nomination moving forward based on her record so far with NHTSA. In a letter sent to the Senate Committee, CAS argued King has failed in multiple duties to protect the safety of the driving public.
"NHTSA needs an Administrator whose focus is on the safety of each and every driver, passenger, and pedestrian. Much to our disappointment under Ms. King's leadership, NHTSA continues to tell the world that safety is a priority but the agency's actions show that it is industry needs which come first." - CAS
The nonprofit Center for Auto Safety has been promoting vehicle safety since the organization was founded by Consumers Union and consumer advocate Ralph Nader in 1970.
According to the Center, King may have an interest in driverless cars, but she has turned over her safety responsibilities by allowing voluntary guidelines for autonomous technology, in essence allowing automakers to self-regulate.
"Under King, NHTSA has done nothing but cheerlead for industry even as incidents pile up and new questions arise about the complete lack of federal standards or oversight required to protect our citizenry from being used as guinea pigs in a corporate product development experiment." - CAS
CAS further has issues with King based on her record of allegedly ignoring deadlines for creating and maintaining safety laws and regulations. According to the Center, rules mandated by Congress don't seem to merit the attention of NHTSA under King's leadership.
"Under Deputy Administrator King, rules that Congress mandated in order to protect children, inform consumers of recalls, and provide predictability and fairness in the marketplace have been continuously delayed and ignored." - CAS
And based on the Center's letter, Ms. King has dropped the ball with the subjects of Corporate Average Fuel Economy (CAFE) standards and protecting the public from deadly Takata airbags.
The letter submitted to Committee members alleges Takata airbag recall completion rates are "dismal" under King as NHTSA refuses to lay fines on automakers that underperform.
Although King has jumped one hurdle with the 14-12 Committee vote, the Center for Auto Safety claims she is much too close to the automotive industry to be chief of an agency tasked with monitoring automakers.