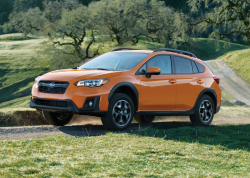 — A Subaru Crosstrek and Impreza recall has been ordered for nearly 519,000 vehicles with engine control modules that may continue to power the ignition coils after the engines are shut down.
Recalled are 2017-2019 Subaru Impreza and 2018-2019 Subaru Crosstrek vehicles that could suffer from short circuits and blown fuses.
The automaker says the vehicles could stall once the fuses are blown.
The problems are caused by the programming of the engine control modules that can keep the ignition coils "energized" too long once the engines are turned off. If a short-circuit occurs while driving, the vehicle will stall and will not be able to be restarted.
A stalled vehicle while driving highway speeds is a dangerous condition for anyone on the road, but drivers may have some warning if they feel abnormal vibrations from the vehicle. It's also possible the engine will misfire prior to a stall.
Subaru dealers will reprogram the engine control modules and inspect the ignition coils. Damaged ignition coils will be replaced, and Subaru will replace the front exhaust pipes if certain diagnostic trouble codes are stored in the systems.
More than 466,000 of the recalled vehicles are in the U.S., and another 52,707 are recalled in Canada.
The 2017-2019 Subaru Impreza and 2018-2019 Subaru Crosstrek recall is expected to begin December 13, 2019.
Owners with questions should call Subaru at 844-373-6614 and ask about recall number WUQ-02.
Subaru Impreza and Crosstrek customers in Canada may call 800-894-4212.
Subaru Crosstrek and Impreza owners may be seeing their dealers more than once as the automaker issued a separate recall today for the same vehicles. However, the other recall announced today may involve replacement of the entire engine.
CarComplaints.com has complaints from owners of Subaru Impreza and Subaru Crosstrek vehicles.