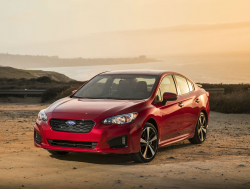 — Subaru is recalling about 228,500 Crosstrek and Impreza vehicles equipped with aluminum positive crankcase ventilation (PCV) valves, possibly to replace the engines.
The 2017-2019 Subaru Imprezas and 2018 Subaru Crosstreks may have PCV valves that fall apart and allow the separated components to enter the engines.
The automaker says the defect occurred because the PCV valve case "had an insufficiently assigned press force value."
PCV valves are oil flow control devices and if they separate and allow engine oil to enter the combustion chambers, there may be a change of appearance or the amount of exhaust from the tailpipes. Continuing to drive a vehicle in this condition can cause the separated PCV components to enter the engine and cause it to fail.
More than 205,000 of the vehicles are recalled in the U.S. and about 23,255 are recalled in Canada.
Subaru says 251 model year 2017 Impreza vehicles will have their engines replaced, but about 228,000 model year 2017-2019 Subaru Impreza and 2018 Subaru Crosstrek vehicles might have their engines replaced.
Other than the 251 Imprezas that will definitely have their engines replaced, whether an engine is replaced in the remaining 228,000 vehicles depends on the results of the dealership inspection.
All vehicles will have their PCV valves inspected and possibly replaced with steel PCV valve cases, then the replaced valves will be inspected to determine if they separate. The separator cover and oil pan will be removed if the PCV valve has separated, and the engine will be replaced if technicians cannot find the separated parts.
The U.S. Subaru Crosstrek and Impreza recall is expected to begin December 13, 2019. U.S. Subaru customers with questions should call 844-373-6614, and Canadian owners should call 800-894-4212.
Subaru is having a tough time with the Crosstrek and Impreza and certain customers can expect to receive multiple recall notices. In addition to the PCV recall, Subaru recalled more than 500,000 Crosstreks and Imprezas to prevent them from stalling.
CarComplaints.com has complaints about Subaru Impreza and Subaru Crosstrek vehicles.