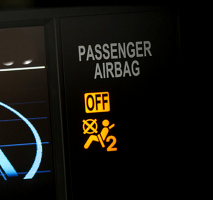 — A Subaru Forester "passenger airbag off" investigation has been opened by federal safety regulators to determine why passenger airbags and occupant detection systems (sensors) are failing.
The National Highway Traffic Safety Administration (NHTSA) has received at least 51 complaints and other reports about passenger airbag problems in 2016-2018 Subaru Foresters.
Owners report they see illuminated front "passenger airbag off" warning lights when the airbags should be functional, a clear safety issue among more than 554,000 SUVs included in the investigation.
Included in the list of 51 complaints are these two from owners of 2016 Subaru Forester SUVs.
"The airbag sensor in the front passenger seat randomly goes off when there's a passenger in the car or not. The seat belt alarm for the passenger side goes off without a passenger in the car. Airbag sensor says "Off" with a passenger in the car. This is very unsafe, as I do not know if that airbag is truly functional, and also an annoyance, as the seatbelt alarm dings while I'm driving."
"Passenger detection system to turn on airbag has been intermittent since shortly after purchasing. Will turn off passenger air bag with an adult present in the seat, or not turn it on initially. Now it is almost always off at some point in a driving experience. The system acknowledges the presence of a passenger because it gives a warning on the display that it needs service but it leaves airbag off anyway. I believe it has been too long waiting for parts for a safety system problem."
One common theme among many complaints is the long wait for repair parts at Subaru dealerships, something owners say is an indication of a large problem causing backorders.
The 2016-2018 Foresters use capacitive-type occupant detection systems to classify if the passenger seats are empty or occupied by large or small adults, child seats or other objects.
Failure of the passenger occupant detection system and sensor leaves a passenger unprotected at the very time the airbag is needed in a crash.
CarComplaints.com will update our website with results of the 2016-2018 Subaru Forester "passenger airbag off" investigation.