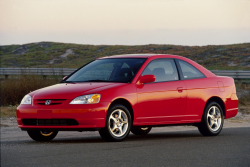 — A Honda Takata airbag recall for about 1.6 million Acura and Honda vehicles in the U.S. has been announced six months ahead of a schedule set by the National Highway Traffic Safety Administration (NHTSA).
2003 Acura 3.2CL
2013 Acura ILX
2003-2006 Acura MDX
2015 Acura RDX
2005-2012 Acura RL
2002-2003 Acura 3.2TL
2009-2014 Acura TL
2009-2014 Acura TSX
2010-2013 Acura ZDX
2001-2012 Honda Accord
2010-2015 Honda Crosstour
2001-2011 Honda Civic
2002-2011 Honda CR-V
2011-2015 Honda CR-Z
2003-2011 Honda Element
2007-2014 Honda Fit
2010-2014 Honda Insight
2002-2004 Honda Odyssey
2003-2015 Honda Pilot
2006-2014 Honda Ridgeline
Takata airbags have killed more people in Honda vehicles than any other automaker, causing Honda to take drastic measures to convince people to get their vehicles repaired.
Sending teams of people door-to-door begging people to do what they should have already done isn't typically part of the recall process of a manufacturer, but Honda did it. That was in addition to multiple advertising campaigns online, on TV, radio and billboards.
The automaker says it's the fifth and last phase of recalls announced by NHTSA in 2016, bringing the total number of recalled Acura and Honda vehicles to 12.9 million.
In those vehicles are about 22.6 million Takata driver or passenger airbag inflators in the U.S. Honda notes even its Gold Wing motorcycles have been impacted by Takata airbag inflator modules.
The inflators in the vehicles were used as replacement parts during early Takata recalls or part of other airbag module replacements, and as of June 7 Honda's Takata airbag recall completion rate stood at 83 percent.
The automaker says it has plenty of replacement parts from suppliers other than Takata and owners shouldn't wait to visit their dealerships.
Mailed recall notices will be mailed in August 2019, but customers may call 888-234-2138 with questions or concerns. Honda says free rental vehicles are available for the day of recall repairs.