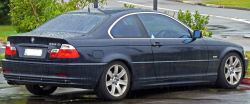 — A BMW 3-Series recall in Australia has been ordered to replace a type of Takata airbag module equipped with a NADI (non-azide driver inflator) that historically hasn't been associated with exploding airbags.
According to the Australian Competition and Consumer Commission (ACCC), the urgent recall includes 12,600 of these BMW 3-Series models manufactured between November 21, 1997, and June 30, 2000.
BMW 316i, 318i, 320i, 323i, 325i, 328i, 330i, 318Ci, 320Ci, 323Ci, 328Ci and 330Ci (See VINs here)
The ACCC and the Department of Infrastructure, Transport, Cities and Regional Development believe Takata non-azide driver inflators have killed one and seriously injured another when the inflators exploded.
Australian officials also say that safety authorities in Japan and the U.S. believe the inflators pose a "critical risk of death or serious injury to vehicle occupants."
Australian BMW owners are warned not to drive their vehicles until repairs are completed, a process that allegedly may take up to 18 months.
Affected vehicles will be towed to the place of inspection or a technician will come to inspect the vehicle at the consumer's home or the vehicle's location.
A BMW vehicle equipped with a faulty Takata inflator will be replaced with a loaner vehicle, or a customer can ask for reimbursement for alternate transportation. BMW also says it will discuss buying back a vehicle if it's equipped with a faulty non-azide driver inflator.
Australian authorities are very concerned about recent abnormal Takata airbag deployments involving NADI-type airbags. Although tens of millions of Takata airbag inflators have been recalled worldwide following more than two dozen deaths and hundreds of injuries, those inflators contained the chemical ammonium nitrate.
The chemical is used to create the explosive charge needed to instantly deploy the airbag in a crash. But the Takata airbag inflators are prone to explode once moisture enters the metal components and makes the ammonium nitrate unstable.
BMW owners in the U.S. may be somewhat familiar with NADI-type airbags based on a 2017 recall of about 230,000 vehicles.