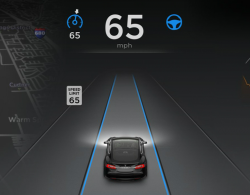 — A Tesla Autopilot recall is necessary because "a vehicle that enables a driver to not pay attention, or fall asleep, while accelerating into a parked fire truck is defective and dangerous."
That statement was provided by the Center for Auto Safety (CAS) after the National Transportation Safety Board (NTSB) released its conclusions about a Tesla Model S crash.
The January 2018 California crash into the firetruck occurred when the Tesla driver ignored warnings to get his hands on the wheel. According to the NTSB report, Autopilot was engaged for about 29 minutes, but the driver's hands were on the steering wheel only 78 seconds of the 29 minutes.
Several warnings were issued to the driver but the data shows his hands weren't on the steering wheel for the last 3 minutes and 41 seconds of the interrupted trip. And while the driver didn't see the firetruck, neither did the Tesla Model S equipped with radar, cameras and sensors.
According to the NTSB, the car took no evasive action to avoid the firetruck and the braking system wasn't activated.
The Center says no vehicle should allow that kind of driver disengagement from the driving task, and any company (Tesla) that "encourages such behavior should be held responsible, and any agency that fails to act bears equal responsibility for the next fatal incident."
The NTSB laid most of the blame on the driver, but safety investigators also determined Tesla's design of the Autopilot system allowed the driver to keep his hands off the steering wheel and his eyes off his surroundings.
CAS says this proves the semi-autonomous feature is dangerous and can result in car crashes that should be completely avoidable. The Center says the National Highway Traffic Safety Administration (NHTSA) should require a recall to ensure the safety of everyone on the roads by requiring Autopilot to have safeguards.
The Center has been at the forefront of calling on federal agencies to take action against Tesla and its Autopilot system, including calling on the Federal Trade Commission (FTC) to do something about "Tesla's deceptive use of the term AutoPilot which encourages exactly the sort of overreliance seen in this crash."
According to CAS, federal regulators at NHTSA have ignored previous recommendations from the NTSB following investigations into crashes and deaths that involved the use of Tesla's Autopilot system.