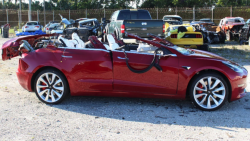 — A Tesla Model 3 crash in Florida is still under a federal investigation after it was determined Tesla's advanced driver assistance system Autopilot was engaged at the time of the crash that killed 50-year-old driver Jeremy Beren Banner.
Tesla's Autopilot system is described by the automaker as a combination of systems that assist a driver but are not meant to take full control of the vehicle in all situations.
Traffic-Aware Cruise Control, Auto Lane Change and Autosteer use cameras, radar and sensors to determine how to steer the vehicle. The driver is required to hold the steering wheel and is provided an alert if the system does not detect at least one hand on the wheel for a period of time.
The March 1, 2019, Delray Beach crash occurred when the 2018 Model 3 slammed into the trailer of a semi-truck, traveled under the trailer and finally stopped 1,600 feet away.
The truck was slowly pulling the trailer across the southbound lanes of US 441 to turn left into the northbound lanes when the Tesla slammed into the left side of the trailer, shearing the roof off the car.
As with a very similar 2016 Florida crash of a Tesla Model S that killed Joshua D. Brown, data from the Model 3 shows Autopilot took no action to avoid hitting the semi-trailer, and neither did the driver.
Investigators with the National Transportation Safety Board (NTSB) say Model 3 driver Banner activated Autopilot about 10 seconds before the crash, and from less than 8 seconds before impact the car didn't detect Banner's hands on the steering wheel. The car hit the trailer at 68 mph without any evidence of evasive actions.
Tesla says it is cooperating with federal investigators, but the automaker also took the time to defend the Autopilot system and how it can allegedly benefit drivers who use it correctly.
"Tesla drivers have logged more than one billion miles with Autopilot engaged, and our data shows that, when used properly by an attentive driver who is prepared to take control at all times, drivers supported by Autopilot are safer than those operating without assistance."
The NTSB says it continues to investigate all aspects of the crash, including the workings of Autopilot and the actions of the Model 3 driver as well as the truck driver.
CarComplaints.com will update our website with results of the Tesla Model 3 Florida crash investigation.