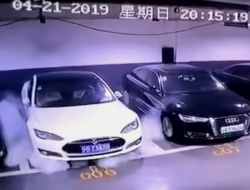 — A Tesla Model S fire recorded in China may have been caused by a failure of one of the battery modules that power the car.
Not much was known about the April 21 incident when the video originally hit the internet, but the video shows a parked white Model S apparently filmed by a parking garage camera in the city of Shanghai.
The video showed smoke starting rising from the car immediately before a flash fire blinded the camera for a second, then the resulting flames started engulfing the front of the car. Photos taken following the fire showed two nearby parked cars fried from being parked next to the Tesla.
No injuries were reported, but Tesla said it quickly sent a team of investigators to the site.
Tesla hasn't released its final report, but the automaker said it preliminarily concluded a battery module failed, although Tesla hasn't said why the module failed. A module is a group of cells supplied by Panasonic and used in the lithium-ion battery that can be extremely difficult to extinguish once on fire.
Tesla argues gasoline-powered cars catch fire on a much more routine basis than the all-electric Tesla models. However, U.S. safety regulators have taken a keen interest in Tesla fires because of the lithium-ion batteries and their cells.
Multiple reports show a Tesla vehicle fire can take a large amount of foam and water to douse, except it's possible the results are only temporary.
Tesla warns first responders it's sometimes best to let the fire burn for 24 hours as long as no surrounding structures are in danger. Fire departments and towing companies have reported fires flaming up from the battery cells hours or days after fire personnel believed they had put out the fires.