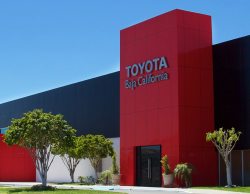 — The court battle between Toyota and California dealership owner Roger Hogan has ended with a Santa Ana jury finding the automaker liable for $15.8 million for interfering with the contract between Hogan and Toyota.
The lawsuit alleges Hogan had been in business with Toyota nearly 40 years when he created a recall software program called Autovation that could be used by Toyota dealers. The software allegedly helped dealerships find customers who owned vehicles that had been recalled but never repaired.
Hogan said he created the software after Toyota's massive problems concerning unintended acceleration, something the automaker handled by sending recall notices to each customer. Toyota faced massive costs related to problems with sudden acceleration events and was fined more than $1 billion over sticky accelerator pedals and floor mats that interfered with pedals.
Hogan alleges hundreds of thousands of vehicle owners didn't know their vehicles had been recalled, a problem the Autovation software could remedy. Hogan argued Toyota's recall system was broken and made it difficult for dealerships to identify vehicles with unrepaired (open) recalls.
According to the lawsuit, the software created by Hogan greatly increased the number of vehicles that were repaired under recall, but this came at a price to Toyota. The lawsuit alleges Toyota didn't want to spend millions of dollars to repair all the vehicles the Autovation software identified, so the automaker put an end to the program and allegedly set out to destroy Hogan's dealerships.
In particular, Toyota allegedly told Hogan to create a plan to turn the dealerships over to new owners, then rejected the idea of handing the business to Hogan's sons.
The lawsuit also alleges Toyota required multiple expensive actions by Hogan and his dealerships, but it was all an effort to convince him to shut down the dealerships. According to Hogan, Toyota cost him millions of dollars in lost revenue, an argument the jury agreed to support, at least partially.
Hogan sued for $100 million, but the jury said the $15.8 million was fair, concluding Toyota wouldn't have to pay punitive damages because the automaker didn't intend to deceive the dealerships by concealing material facts.
The jury also didn't buy accusations Toyota committed fraud, but did find evidence that Mr. Hogan wasn't exactly squeaky clean in the matter because he acted with "unclean hands." That finding caused the jury to knock $2.3 million off the verdict.
Toyota says it respects the decision by the jury, but the automaker believes the evidence shows it followed its contractual obligations to Hogan and his Claremont and San Juan Capistrano dealerships.
The Toyota lawsuit was filed in the Orange County Superior Court of California - Roger Hogan, SRK, Inc, dba Capistrano Toyota/Scion, and R&C Motor Corp., dba Claremont Toyota v. Toyota Motor Sales, USA, Inc.
The plaintiff is represented by Miller Barondess, LLP.