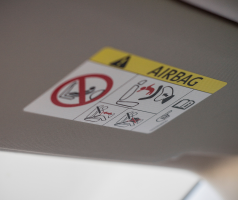 — A Takata airbag investigation has been opened by the U.S. which includes about 30 million model year 2001-2019 vehicles and more than 20 companies (complete list below).
The National Highway Traffic Safety Administration (NHTSA) opened the investigation even though there is no evidence any of the specific Takata airbag inflators have ruptured.
Takata manufactured two types of phase-stabilized ammonium nitrate airbag inflators between 2000 and 2017 which used propellant 2004 and propellant 2004L. But inflators which used propellant 2004 can explode after prolonged exposure to high temperatures and humidity.
Propellant 2004 is supposed to deploy the airbags in crashes, but moisture can make the propellant unstable. The burn rate is too quick which causes the metal airbag inflator to explode.
All Takata airbag inflators using propellant 2004 are recalled in U.S. vehicles if the inflators don't contain a desiccant, a drying agent that traps and holds moisture.
According to NHTSA, replacement airbag inflators use either propellant 2004 or 2004L and all the replacement inflators contain a desiccant. However, NHTSA says even desiccants eventually fail to absorb moisture when the drying agent is fully saturated.
Safety regulators believe in the worst environments, it can take up to five years for desiccant saturation to occur.
In addition to NHTSA, three companies have continued investigating Takata airbag inflators and so far propellant 2004L shows no evidence of degrading to the point of causing a ruptured inflator.
"However, the time in service of such inflators remains short compared to that of the inflators using propellant 2004. Further study is needed to assess the long-term safety of desiccated inflators using propellant 2004L." — NHTSA
The government says it will examine the following companies and vehicles to determine if propellant degradation exists in desiccated Takata airbag inflators.
Vehicles Included in the NHTSA Takata Airbag Investigation
Acura
2003 ACURA CL
2013-2015 ACURA ILX
2013-2015 ACURA ILX HYBRID
2003-2006 ACURA MDX
2013-2017 ACURA RDX
2014-2017 ACURA RLX
2014-2017 ACURA RLX HYBRID
2002-2003 ACURA TL
BMW
2008-2013 BMW 1 SERIES M
2008-2013 BMW 128I
2008-2013 BMW 135I
2014-2016 BMW 228I
2017-2018 BMW 230I
2013 BMW 3-SERIES
2013-2018 BMW 320I
2013-2016 BMW 320XI
2006-2012 BMW 325
2006-2013 BMW 328
2013-2018 BMW 328D
2013-2016 BMW 328I
2014-2016 BMW 328XD
2013-2016 BMW 328XI
2006-2011 BMW 330
2016-2018 BMW 330E
2017-2018 BMW 330I
2006-2013 BMW 335
2013-2017 BMW 335I
2013 BMW 335IS
2013-2016 BMW 335XI
2016-2018 BMW 340I
2014-2016 BMW 428I
2014-2016 BMW 428XI
2017-2019 BMW 430I
2014-2016 BMW 435I
2014, 2016 BMW 435XI
2017-2019 BMW 440I
2017 BMW 5-SERIES GRAN TURISMO
2014 BMW 525D XDRIVE
2014-2016 BMW 528I
2014 BMW 528XI
2017 BMW 530E
2014-2017 BMW 530I
2014-2016 BMW 535D
2014-2017 BMW 535I
2014 BMW 535XI
2017 BMW 540I
2014-2017 BMW 550I
2014, 2016 BMW 550XI
2012 BMW 6 SERIES
2012-2019 BMW 640I
2012-2018 BMW 650I
2014-2019 BMW I8
2007-2013 BMW M3
2016-2018 BMW X1
2013-2017 BMW X1 SAV
2018 BMW X2
2011-2017 BMW X3
2007-2012 BMW X3 SAV
2015-2018 BMW X4
2014-2018 BMW X5
2018 BMW X5 M
2007-2013 BMW X5 SAV
2015-2018 BMW X6
2010-2011 BMW X6 ACTIVEHYBRID SAC
2015-2018 BMW X6 M
2008-2009, 2012-2014 BMW X6 SAC
Buick
2016 BUICK CASCADA
2013 BUICK ENCORE
2018 BUICK REGAL
2018 BUICK REGAL TOURX
Cadillac
2007-2014 CADILLAC ESCALADE
2007-2014 CADILLAC ESCALADE ESV
2007-2013 CADILLAC ESCALADE EXT
2017 CADILLAC XTS
Chevrolet
2007-2013 CHEVROLET AVALANCHE
2014 CHEVROLET CAPRICE
2014 CHEVROLET CAPRICE POLICE PURSUIT
2014 CHEVROLET CORVETTE
2007-2015 CHEVROLET SILVERADO 1500
2007-2015 CHEVROLET SILVERADO 2500
2007-2015 CHEVROLET SILVERADO 3500
2012-2013 CHEVROLET SONIC
2016 CHEVROLET SPARK
2016 CHEVROLET SPARK EV
2014 CHEVROLET SS
2007-2014 CHEVROLET SUBURBAN
2007-2014 CHEVROLET TAHOE
2013 CHEVROLET TRAX
Chrysler
2005-2015 CHRYSLER 300
2007-2009 CHRYSLER ASPEN
2007-2008 CHRYSLER CROSSFIRE
Dodge
2008-2020 DODGE CHALLENGER
2006-2019 DODGE CHARGER
2012-2014 DODGE CHARGER POLICE
2005-2011 DODGE DAKOTA
2004-2009, 2018 DODGE DURANGO
2005-2008 DODGE MAGNUM
2003-2008 DODGE RAM 1500
2003, 2005-2009 DODGE RAM 2500
2003, 2006-2010 DODGE RAM 3500
2008-2009 DODGE RAM 4500
2008-2009 DODGE RAM 5500
2006-2009 DODGE SPRINTER 2500
2006-2009 DODGE SPRINTER 3500
Ferrari
2010-2015 FERRARI 458 ITALIA
2013-2015 FERRARI 458 SPECIALE
2014-2015 FERRARI 458 SPECIALE A
2012-2015 FERRARI 458 SPIDER
2016-2019 FERRARI 488 GTB
2015-2019 FERRARI 488 SPIDER
2015-2017 FERRARI CALIFORNIA T
2013-2017 FERRARI F12 BERLINETTA
2016-2017 FERRARI F12 TDF
2011-2016 FERRARI FF
2016-2018 FERRARI GTC4LUSSO
2018-2019 FERRARI GTC4LUSSO T
2014-2017 FERRARI LAFERRARI
2016-2017 FERRARI LAFERRARI APERTA
2018 FERRARI PORTOFINO
Fisker Karma
Ford
2015-2017 FORD EDGE
2012-2016 FORD FUSION
2012-2016 FORD FUSION ENERGI
2012-2016 FORD FUSION HYBRID
2015-2017 FORD MUSTANG
Freightliner
2016-2018 FREIGHTLINER SPRINTER 1500
2007-2011, 2016-2018 FREIGHTLINER SPRINTER 2500
2007-2011, 2016-2018 FREIGHTLINER SPRINTER 3500
2016-2018 FREIGHTLINER SPRINTER 4500
GMC
2007-2015 GMC SIERRA 1500
2007-2015 GMC SIERRA 2500
2007-2015 GMC SIERRA 3500
2014-2015 GMC SIERRA DENALI
2007-2014 GMC YUKON
2007-2014 GMC YUKON XL
Honda
2001-2007, 2013 HONDA ACCORD
2013-2014 HONDA ACCORD PLUG-IN HYBRID
2001-2005, 2012-2015 HONDA CIVIC
2001-2004, 2012-2015 HONDA CIVIC GX
2003-2005, 2012-2015 HONDA CIVIC HYBRID
2012-2015 HONDA CIVIC SI
2002-2006, 2012-2015 HONDA CR-V
2003-2011 HONDA ELEMENT
2002-2004 HONDA ODYSSEY
2003-2008 HONDA PILOT
2006 HONDA RIDGELINE
Infiniti
2003-2008 INFINITI FX35
2003-2008 INFINITI FX45
2001-2004 INFINITI I30
2001-2004 INFINITI I35
2006-2010 INFINITI M35
2006-2010 INFINITI M45
2017-2018 INFINITI QX30
2002-2003 INFINITI QX4
Jaguar
2017 JAGUAR F-PACE
2017 JAGUAR XE
2016-2017 JAGUAR XF
Jeep
2014-2018 JEEP CHEROKEE
2011-2016 JEEP COMPASS
2011-2019 JEEP GRAND CHEROKEE
2011-2012 JEEP LIBERTY
2011-2016 JEEP PATRIOT
2007-2018 JEEP WRANGLER
Land Rover
2015-2017 LAND ROVER DISCOVERY SPORT
2013-2017 LAND ROVER RANGE ROVER
2012-2017 LAND ROVER RANGE ROVER EVOQUE
2014-2017 LAND ROVER RANGE ROVER SPORT
Lexus
2007-2012 LEXUS ES350
2017 LEXUS GX
2010-2017 LEXUS GX460
2006-2015 LEXUS IS 250
2010-2015 LEXUS IS 250C
2016-2018 LEXUS IS 300
2006-2018 LEXUS IS 350
2010-2018 LEXUS IS 350C
2008-2014 LEXUS IS F
2016-2017 LEXUS IS200T
2012 LEXUS LFA
2016-2018 LEXUS RC 300
2015-2018 LEXUS RC 350
2015-2018 LEXUS RC F
2002-2010 LEXUS SC
Lincoln
2015-2016 LINCOLN MKC
2015-2017 LINCOLN MKX
2012-2016 LINCOLN MKZ
2012-2016 LINCOLN MKZ HYBRID
Mazda
2011-2014 MAZDA MAZDA2
2010-2013 MAZDA MAZDA3
2003-2008 MAZDA MAZDA6
2006-2007 MAZDA MAZDASPEED6
2004-2006 MAZDA MPV
2004-2011 MAZDA RX-8
McLaren
2016-2017 MCLAREN 570
2017 MCLAREN 570 GT
2018 MCLAREN 570S
2015-2016 MCLAREN 650S
2016-2017 MCLAREN 675 LONGTAIL
2012-2014 MCLAREN MP4-12C
2013-2014 MCLAREN MP4-12C SPIDER
Mercedes-Benz
2014-2016 MERCEDES BENZ B-CLASS ELECTRIC
2016-2017 MERCEDES BENZ B160
2014-2016 MERCEDES BENZ B250E
2015 MERCEDES BENZ C200
2015 MERCEDES BENZ C220
2005-2007 MERCEDES BENZ C230
2012-2016 MERCEDES BENZ C250
2008-2014 MERCEDES BENZ C300
2018 MERCEDES BENZ C300 4MATIC
2005 MERCEDES BENZ C320
2006-2009 MERCEDES BENZ C350
2009-2011 MERCEDES BENZ C63
2017 MERCEDES BENZ C63S AMG
2012 MERCEDES BENZ CLS
2015-2016 MERCEDES BENZ CLS400
2012-2016 MERCEDES BENZ CLS550
2012-2015 MERCEDES BENZ CLS63
2014-2016 MERCEDES BENZ CLS63S
2012 MERCEDES BENZ E
2014-2016 MERCEDES BENZ E250
2016 MERCEDES BENZ E300
2013 MERCEDES BENZ E330
2015-2016 MERCEDES BENZ E400
2013-2015 MERCEDES BENZ E400 HYBRID
2010-2011 MERCEDES BENZ E550
2010-2016 MERCEDES BENZ E63
2013-2015 MERCEDES BENZ E63S AMG
2009-2010 MERCEDES BENZ GL320
2011-2012 MERCEDES BENZ GL350
2009-2012 MERCEDES BENZ GL450
2009-2012 MERCEDES BENZ GL550
2016 MERCEDES BENZ GLC
2013-2015 MERCEDES BENZ GLK250
2010-2015 MERCEDES BENZ GLK350
2009-2010 MERCEDES BENZ ML320
2009-2011 MERCEDES BENZ ML350
2010-2011 MERCEDES BENZ ML450
2009-2011 MERCEDES BENZ ML550
2009-2011 MERCEDES BENZ ML63
2009-2010 MERCEDES BENZ R320
2009-2012 MERCEDES BENZ R350
2015-2016 MERCEDES BENZ SL400
2013-2016 MERCEDES BENZ SL550
2013-2015 MERCEDES BENZ SL63
2016 MERCEDES BENZ SL63 AMG
2013-2015 MERCEDES BENZ SL65
2016 MERCEDES BENZ SLC300
2012 MERCEDES BENZ SLK
2013-2017 MERCEDES BENZ SLK250
2007-2008 MERCEDES BENZ SLK280
2015-2016 MERCEDES BENZ SLK300
2007-2008, 2012-2017 MERCEDES BENZ SLK350
2007-2008, 2014 MERCEDES BENZ SLK55
2013, 2015-2016 MERCEDES BENZ SLK55 AMG
2011-2014 MERCEDES BENZ SLS
2017-2018 MERCEDES-BENZ AMG C43
2017-2018 MERCEDES-BENZ AMG C63
2018 MERCEDES-BENZ AMG C63S
2014-2018 MERCEDES-BENZ AMG CLA45
2017-2018 MERCEDES-BENZ AMG CLS63
2016-2018 MERCEDES-BENZ AMG GLC43
2018 MERCEDES-BENZ AMG GLC63
2016-2018 MERCEDES-BENZ AMG GT
2018 MERCEDES-BENZ AMG GT C
2018 MERCEDES-BENZ AMG GT R
2018 MERCEDES-BENZ AMG GT ROADSTER
2017-2018 MERCEDES-BENZ AMG SLC43
2012 MERCEDES-BENZ C180
2018 MERCEDES-BENZ C250 D
2015-2018 MERCEDES-BENZ C300
2010-2017 MERCEDES-BENZ C350
2016-2018 MERCEDES-BENZ C350E
2015 MERCEDES-BENZ C400
2016-2017 MERCEDES-BENZ C450
2014-2018 MERCEDES-BENZ CLA250
2017-2018 MERCEDES-BENZ CLS550
2017 MERCEDES-BENZ E300
2010-2017 MERCEDES-BENZ E350
2017 MERCEDES-BENZ E400
2015-2018 MERCEDES-BENZ GLA250
2017 MERCEDES-BENZ GLC
2016-2018 MERCEDES-BENZ GLC300
2018 MERCEDES-BENZ GLC350
2018 MERCEDES-BENZ GLC350E
2018 MERCEDES-BENZ GLC63
2018 MERCEDES-BENZ GLC63S AMG
2017-2018 MERCEDES-BENZ SL450
2017-2018 MERCEDES-BENZ SL550
2017 MERCEDES-BENZ SL63
2017-2018 MERCEDES-BENZ SLC 43 AMG
2017-2018 MERCEDES-BENZ SLC300
2016-2018 MERCEDES-BENZ SPRINTER 1500
2010-2011, 2016-2018 MERCEDES-BENZ SPRINTER 2500
2010-2011, 2016-2018 MERCEDES-BENZ SPRINTER 3500
2016-2018 MERCEDES-BENZ SPRINTER 4500
Mitsubishi
2006-2009 MITSUBISHI RAIDER
Nissan
2009-2018 NISSAN 370Z
2013-2018 NISSAN ALTIMA
2009-2014 NISSAN CUBE
2001-2003 NISSAN MAXIMA
2013-2018 NISSAN NV200
2014-2018 NISSAN NV200 TAXI
2002-2004 NISSAN PATHFINDER
2002-2006 NISSAN SENTRA
2016-2018 NISSAN TITAN
2007-2018 NISSAN VERSA
2014-2016 NISSAN VERSA NOTE
Pontiac
Porsche
2017-2018 PORSCHE 718 BOXSTER
2017-2019 PORSCHE 718 CAYMAN
2016-2018 PORSCHE 911
2016-2018 PORSCHE 911 TURBO
2015 PORSCHE 918 SPYDER
2017 PORSCHE BOXSTER
2015-2018 PORSCHE CAYENNE
2015-2018 PORSCHE CAYENNE S E-HYBRID
2015-2018 PORSCHE MACAN
2017-2018 PORSCHE MACAN GTS
2015-2018 PORSCHE MACAN S
2015-2018 PORSCHE MACAN TURBO
2017-2018 PORSCHE PANAMERA
2017-2018 PORSCHE PANAMERA 4
2018 PORSCHE PANAMERA 4 EXECUTIVE
2018 PORSCHE PANAMERA 4 HYBRID
2018 PORSCHE PANAMERA 4 HYBRID EXECUTI
2018 PORSCHE PANAMERA 4 HYBRID SPORT T
2018 PORSCHE PANAMERA 4 SPORT TURISMO
2017-2018 PORSCHE PANAMERA 4S
2017-2018 PORSCHE PANAMERA 4S EXECUTIVE
2018 PORSCHE PANAMERA 4S SPORT TURISMO
2017-2018 PORSCHE PANAMERA TURBO
2017-2018 PORSCHE PANAMERA TURBO EXECUTIVE
2018 PORSCHE PANAMERA TURBO S E-HYBRID
2018 PORSCHE PANAMERA TURBO S HYBRID
2018 PORSCHE PANAMERA TURBO S HYBRID E
2018 PORSCHE PANAMERA TURBO S HYBRID S
2018 PORSCHE PANAMERA TURBO SPORT TURI
RAM
2009 RAM 2500
2009-2010 RAM 3500
2009-2010 RAM 4500
2009-2010 RAM 5500
SAAB
2006-2011 SAAB 9-3
2006-2009 SAAB 9-5
Saturn
Scion
2016 SCION IM
2008-2015 SCION XB
Spartan Fire
2012-2019 SPARTAN FIRE GLADIATOR
2013-2019 SPARTAN FIRE METROSTAR
2013 SPARTAN FIRE METROSTAR-X
Subaru
2015-2017 SUBARU LEGACY
2015-2017 SUBARU OUTBACK
Tesla
2012-2019 TESLA MODEL S
2016-2018 TESLA MODEL X
Toyota
2010-2017 TOYOTA 4RUNNER
2003-2018 TOYOTA COROLLA
2017-2018 TOYOTA COROLLA IM
2003-2013 TOYOTA COROLLA MATRIX
2009-2011 TOYOTA MATRIX
2002-2007 TOYOTA SEQUOIA
2011-2014 TOYOTA SIENNA
2003-2006 TOYOTA TUNDRA
2006-2012 TOYOTA YARIS