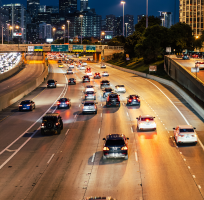 — U.S. traffic deaths for 2021 are estimated at 42,915 in what the government calls a crisis to be fought with more money and more regulations, in addition to the federal push for autonomous vehicles.
According to the National Highway Traffic Safety Administration, the estimated 42,915 people killed in 2021 equates to a 10.5% increase from the 38,824 road fatalities in 2020 when the highways were wide open due to COVID-19 restrictions.
While NHTSA emphasizes the number of fatalities for 2021, estimates show the fatality rate was down from 2020 in vehicle miles traveled, or VMT, even though the vehicle miles traveled in 2021 increased by about 325 billion miles compared to 2020.
And although the fatality rate increased in the first quarter of 2021, the rate decreased in the other three quarters of 2021 compared to 2020.
"We face a crisis on America's roadways that we must address together. With our National Roadway Safety Strategy and the President's Bipartisan Infrastructure Law, we are taking critical steps to help reverse this devastating trend and save lives on our roadways." — U.S. Transportation Secretary Pete Buttigieg
NHTSA broke down traffic deaths in 2021 by various categories which indicate an estimated increase compared to 2020.
Fatalities in multi-vehicle crashes: Increased 16%
Fatalities on urban roads: Increased 16%
Fatalities among drivers 65 and older: Increased 14%
Pedestrian fatalities: Increased 13%
Fatalities in crashes involving at least one large truck: Increased 13%
Daytime fatalities: Increased 11%
Motorcyclist fatalities: Increased 9%
Bicyclist fatalities: Increased 5%
Fatalities in speeding-related crashes: Increased 5%
Fatalities in police-reported, alcohol-involvement crashes: Increased 5%
In response to the estimated 2021 traffic deaths, the government is touting the Bipartisan Infrastructure Law and NHTSA says it "released $740 million in funding for the 402 State and Community Grant Program, Section 405 National Priority Safety Program and Section 1906 Racial Profiling Data Collection Grants."
"States are encouraged to use the funding to implement programs to address gaps and opportunities identified during the technical assistance effort, expand partnerships, and focus on risky driving as well as safety concerns among vulnerable road users and overrepresented populations." — NHTSA
U.S. Traffic Deaths Since 1970
According to government statistics, the number of traffic deaths in 2020 was nearly 14,000 less than traffic deaths in 1970 at a time when the U.S. population was about 205 million compared to a population of 331 million in 2020.
1970 52,627
1971 52,542
1972 54,589
1973 54,052
1974 45,196
1975 44,525
1975 44,525
1976 45,523
1977 47,878
1978 50,331
1979 51,093
1980 51,091
1981 49,301
1982 43,945
1983 42,589
1984 44,257
1985 43,825
1986 46,087
1987 46,390
1988 47,087
1989 45,582
1990 44,599
1991 41,508
1992 39,250
1993 40,150
1994 40,716
1995 41,817
1996 42,065
1997 42,013
1998 41,501
1999 41,717
2000 41,945
2001 42,196
2002 43,005
2003 42,884
2004 42,836
2005 43,510
2006 42,708
2007 41,259
2008 37,423
2009 33,883
2010 32,999
2011 32,479
2012 33,782
2013 32,894
2014 32,744
2015 35,485
2016 37,806
2017 37,473
2018 36,835
2019 36,355
2020 38,824
2021 42,915 (Estimated)