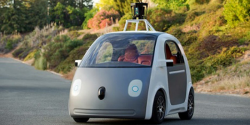 — Every survey and study indicates U.S. drivers aren't too hip on the idea of sharing the roads with fully driverless cars. And those same consumers aren't excited to ride around in vehicles with no drivers, no steering wheels and no pedals.
The latest self-driving car survey conducted by AAA shows drivers might not mind systems that assist drivers, what are called advanced driver assistance systems (ADAS).
ADAS includes features such as blind spot warning, adaptive cruise control and automatic emergency braking.
But when it comes to driverless cars which do all the work, each year the public seems to become more nervous than the previous years.
AAA describes a driverless vehicle as:
"A vehicle capable of operating without human involvement. A human driver is not required to control the vehicle at any time, nor required to be present in the vehicle while moving. These vehicles are not available for purchase by consumers and are classified as Level 5 automation as defined by the SAE [Society of Automotive Engineers]."
Researchers determined 68% of drivers are afraid of driverless cars, a jump of 13% compared to 2022 when the Afraid-o-Meter registered 55%.
In addition to the scare factor, researchers learned some consumers are confused by the subject. AAA found about one in 10 drivers believe they can purchase a vehicle that drives itself while the driver sleeps.
This is an upsetting finding because to date, there are no vehicles the public can buy which are capable of allowing a driver to disengage from the driving task.
AAA also found some drivers are confused by the names of driver assistance systems in use today.
"AAA found that 22% of Americans expect driver support systems, with names like Autopilot, ProPILOT, or Pilot Assist, to have the ability to drive the car by itself without any supervision, indicating a gap in consumer understanding." — AAA
Greg Brannon, director of automotive research for AAA, says the organization was not expecting such a dramatic decline in trust from previous years. "Although with the number of high-profile crashes that have occurred from over-reliance on current vehicle technologies, this isn't entirely surprising."
AAA has conducted its annual Autonomous Vehicle (AV) Survey since 2016.