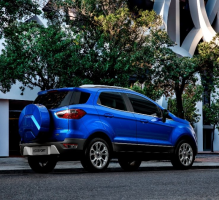 — Ford EcoSport engine and oil pump problems have caused U.S. safety regulators to open an investigation which includes more than 241,000 EcoSport SUVs.
The National Highway Traffic Safety Administration has received 95 complaints about engine failures in 2018-2021 Ford EcoSports.
The engines allegedly failed due to a loss of oil pressure, with some EcoSport owners asserting low engine oil pressure warning lights illuminated before the vehicles lost power.
"Suddenly a warning light that I have never seen comes on accompanied by a chiming bell = "low engine oil pressure". I try to get it home but noticed the car will not accelerate past 60mph without shaking a sputtering like its about to cut off... I bring it down to 20mph the whole way home and seem to make it. I call a mobile mechanic and he tells me that the oil pump has failed, there is a valve cover leak & I pretty much need A NEW ENGINE... just wow." — 2018 Ford EcoSport owner
NHTSA says the problem may be caused by a failed engine oil pump assembly. To repair the problem the EcoSport engine must be replaced.
"While driving back, 2 miles after, my started decelerating until the engine stalled. I had to immediately park at the side of the road along Highway 29 and have my ecosport towed. I was later told that my engine and turbo needed replacement. My car just turned 2 years old in October 2020." — 2018 Ford EcoSport owner
According to NHTSA, safety regulators will investigate the engine problems and determine the effects they have on safety.
CarComplaints.com will update our website with results of the investigation.