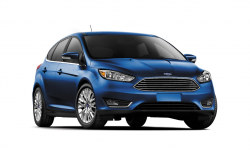 — A Ford Focus recall is under investigation in the U.S. because owners of 2012-2018 Ford Focus vehicles continued to complain even after the cars were allegedly repaired.
The original Ford Focus recall was issued in October 2018 for more than 1.2 million Focus cars, some equipped with 2-liter gasoline direct injection (GDI) engines built prior to April 13, 2017.
The remaining vehicles were equipped with 2-liter gasoline turbocharged direct injection (GTDI) engines built prior to February 2, 2018.
The Ford Focus recall was necessary because the engines experienced problems with the canister purge valve and powertrain control module software. Ford says the software didn't adequately detect a stuck-open canister purge valve.
This interferes with the fuel-to-air ratio which can cause the Focus to lose the ability to move forward. A driver may notice warning lights, erratic fuel gauge readings and too much vacuum in the fuel vapor management system.
According to Ford, this can deform the fuel tank.
Following the October 2018 Ford Focus recall, Ford announced another Focus recall to update the powetrain control module software.
The 2019 recall involved Focus cars included in the 2018 recall that had recall repairs performed, but none of the cars had the powertrain control module software updated to detect malfunctioning canister purchase valves.
The National Highway Traffic Safety Administration opened this investigation after nearly 100 complaints alleging canister purchase valve failures in 2012-2018 Ford Focus vehicles.
NHTSA will look into the complaints and determine if additional recall actions are necessary.
CarComplaints.com will update our website with results of the Ford Focus recall investigation.